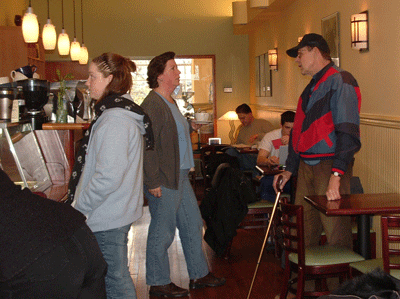 legal who works too hard, Brett with his two bowls of ice cream every day but now walking with a cane, the beautiful traffic engineer for the County Department of Public Works, Mr. Saah who owns the eponymous furniture store down the Pike. Itís our neighborhood, after all, the place is ours. A few of the old staff are still around, but they shouldnít stay. They need to move on and do better things with their lives than make sandwiches and cappuccinos in a neighborhood coffee house. Even if I want to see the same faces so I feel Iím returning home.
Can I look at Arlington the way I look at Maputo or Cape Town or even New Brunswick? As an outside observer, or perhaps an inside observer? Maybe. Columbia Pike is drab and homey. Its shops donít have the vibrancy of Ninth Avenue in New York, nor do they have the small town feel of New Brunswick. They are a jumble of ethnic identities. At one corner we have, in a row, a Chinese take-out, a sushi place, a new Thai restaurant, a perpetually empty Chinese restaurant draped in red tablecloths and fake flowers, an Asian market. Across the street another Thai restaurant,
an Ethiopian market and restaurant, an El Salvadoran club. A quarter mile down yet another Thai restaurant, a dilapidated old Indian shop, a Peruvian chicken roastery, an El Salvadoran restaurant. In the middle of all that The Broiler, a local institution that's been there for decades, a spoon so greasy that you taste the fried onions in the air a block away. My friends Marilyn and Riley ride over on their bikes for hamburgers and fries, and Susanna buys soft ice cream there Ė creamies, she calls them. I prefer Thai food and trendy coffee.
One corner is dominated by an auto dealership, two sides of the street, vast showroom, lots full of cars for sale, new on one side of the street and used on the other. The shopping center across from it used to have a great old bakery but it has closed, replaced by an auto parts store. Cars are everywhere, in front of the Broiler, in a lot behind Asian Restaurant Row, surrounding the three chain drug stores within a stoneís throw of where Iím walking, in front of the check-cashing place that used to be a purveyor of pupusas and tamales.
Check-cashing and wire transfers are local specialties here. Some of my neighbors complain about them, consider them slummy and lower class. But they come with the El Salvadorans, Indians, Thais, and Ethiopians who run the shops that give character to our neighborhood. They donít need gourmet coffee house or an overpriced food coop, the immigrants who keep the food shops in business. But they do need payday loans, or to wire their cash earnings back to wives or brothers back home. Itís a package deal.
Perhaps my neighborhood will go the way of Clarendon in North Arlington. The metro runs through Clarendon, and the county had the smarts to require high density development along the route instead of letting a few homeowners reap huge windfalls with little other benefit from the efficient new transportation