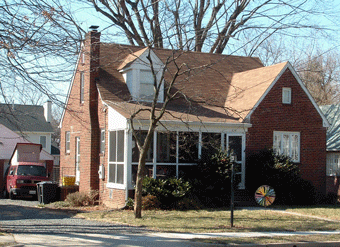 from Africa, Matilda and I have been living in the driveway, plugged into the garage, with trips inside for the bathroom, the kitchen, the shower, and of course company. You can see her in the photo, off at the back of the driveway.
We had a warm spell this weekend, and I took my electric radiator down to the basement. I refuse to acknowledge that it isnít spring yet, so when the temperature dropped back down to the thirties, I finally accepted Erzebetís offer to stay in her room while sheís visiting her family in Hungary.
Her room, is it? I slept in that room for eight years! But now I guess it isnít mine. Itís a long narrow room, with sloping roof along the long sides, and a window at each end. The walls are covered with knotty
pine, and on one side it conceals a 30-foot crawl space thatís great for storage, and for occasional nesting squirrels. The stairs come straight into the room, with a railing where I hung clothes, fabric, scarves, whatever I didnít want to put away. So does Erzebet. My bed was at the far end from the stairs, so is Erzebetís. Her ironing board is permanently open just where mine always was, by the dormer window opposite the stair rail. She has a sewing machine, where my projects were spread on the floor, but itís still a combination of bedroom and sewing workshop.
But there the similarity ends. When I was there the shades were always open, and from April to October the windows were open as well. The head of the bed was under the window, and there was hardly any furniture Ė just a few dressers and the ironing board. A Chinese scroll hung on the bathroom door, but nothing else graced the wall. It was a big open space made for sitting on the floor, spreading out quilts, and doing aerobics or yoga.
Under Erzebetís rule itís orange and red and yellow and cluttered with paintings and artworks and tables with trinkets and make-up boxes and jewelry boxes and clothes. A sign hanging on the wall says ďBourbon Street,Ē and the imagery of the French Quarter fits perfectly with the riot of color and motion in the room. The bathroom walls are covered with posters and prints. A spoof of a
romantic movie poster, featuring Corny Love, Ewan Trouble, and guest Lista Flackheart. A photo of a pug and a cat embracing, with a message about choosing passion over safety. A print in what I think of as ďCaribbean tourism style,Ē a painting of a man and a woman in shades of red and yellow and green with a blue sea behind, he in a huge straw sunhat, she carrying a painting of him in his sunhat.
Bookshelves along one wall are overflowing, most of the books in Hungarian, a few in English. Next to the bed, bottles and perfumes and pictures and photos cover a row of small tables. Laces and eastern European fabrics cover the tables. Clothes are draped on the chair, the stair rail, the tables Ė a wild assortment of patterns and textures; mohair sweater in blue, green, orange, red, and yellow; woven paisley shawl in reds and magentas and purples; shirts in stripes and flowers and dots. Itís a brilliant flaming visual display. The chair by the sewing machine has
been painted lemon yellow with scarlet dots. Leaning on the wall at the end of the bed is a collage of painted egg crates, each cup a different mix of colors, egg shells glued into a few of them.
I love it. Itís even, smoothly laid-out chaos. No one piece stands out above the other, but everywhere you look are endless details of color and texture to examine in more and more detail.
Sleeping there for a few days, because I donít want to deal with the cold in my van, Iím half an intruder and half returning home. But mostly I am a guest. I shouldnít be returning to what was once my home because that would only be an illusion. And I miss my van, even though I am enjoying the convenience of sleeping inside for a few days when itís 35 degrees outside.
In a week Iíll move on. The final revisions to the book went to the publisher on Sunday. Iím in the home stretch!