Tales of a 21st Century Gypsy
March 28, 2004. Savannah.
Matilda and I finally made it out of Chapel Hill on Saturday. The folks at Transporter Werks did a lot of work on Matilda's brakes, which seems to have fixed the smell. They were a delight. Sean, the owner, is an enthusiastic vanagon owner himself, and happy to talk about them. The other people working there, Gary and Carrie, are just as friendly and outgoing. And Vela and Guinness, the two big black dogs who hang out there, bonded instantly with Cris' black lab mix Lily. The threesome bounded and chased around the lot, into the vans, through the garage. They quickly learned that Cris had a supply of treats, and Lily was required to share with her new friends. When it was time to leave, Lily tore off to the other side of the lot and wouldn't let Cris coax her into the car, though Vela would have been quite happy to get in Cris' car in return for a few pretzels.
Sean seems to have been right about the brakes, because we made it to Savannah without any problems other than boredom and one short nap.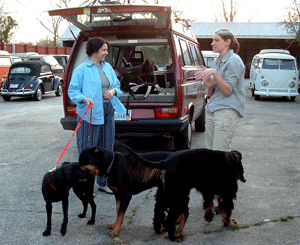 Savannah is, as I'm sure you all know, very pretty – a city of renovated houses surrounding verdant squares that were sited by the town's founder, Mr. Oglethorpe. Savannah saw hard times in the middle of the 20th century, but a group of women organized to fight for historic preservation, and now the old city is one big historic district with tight restrictions preventing change. It is indeed lovely – old wood and brick homes with sweeping entry-ways, wisteria-covered balconies, and wood shutters. The squares are a riot of brightly colored azaleas, shaded by towering live oaks, their spreading branches draped with Spanish moss like tinsel on a Christmas tree. The texture of the old city is much like Georgetown or Beacon Hill, but the vegetation is nothing like the north.
Two forces have apparently spurred the redevelopment of Savannah in recent decades. One was the founding, twenty five years ago, of the Savannah College of Art and Design, a private school that created a campus by renovating buildings scattered throughout the downtown instead of trying to amass land in one place. The SCADification of Savannah has, according to one article I read, led to a change in the urban ambiance; hearty Polish delicatessens replaced by trendy coffee shops decorated with the works of SCAD students. For the city, SCAD's strategy is brilliant – dozens of large boarded-up buildings have been converted to classrooms, studio space, dormitories, libraries, galleries, and all the other facilities needed by a college. Though from what I've seen on café walls, the students may not be quite as brilliant. Indeed, I met someone who is selling furniture to the school for its student center – wouldn't that be a great opportunity to showcase their own students' designs?
The other force that stormed over Savannah was Midnight in the Garden of Good and Evil. That book was most of what I knew about Savannah before arriving (though I thought it was a novel, not a true story!), and the same is apparently true of most of the US.