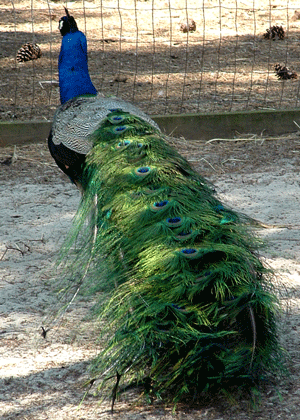 I stayed in a hostel in Kitty Hawk. When I was a teen-ager, they were called youth hostels, and they were filled with groups of teen-agers on bicycles, foreign college students seeing the country with Greyhound bus passes, and occasional boy scout troops hiking with their leaders. At this hostel were an English woman traveling in a rented car, several retired couples with tents and elaborate camping gear packed in their SUVs, four middle-aged Harley riders who pulled tents and gear out of the boxes on their bikes, a genetic researcher from Duke University, a Montessori teacher from Baltimore, and of course Matilda and me. There were a few high school kids who had driven down on spring break from upstate New York, but the climate has certainly changed from when I was on bike trips in high school.
The climate at the hostel was very different from the campgrounds I'd stayed at. People stay at hostels to meet each other, not to retire to their climate-controlled RVs and watch television through their satellite dishes. This place had an array of animals who were great conversation starters. A dozen or so peacocks wandered the grounds, flew into the trees and onto the chicken coops, showed off their tails regularly to intimidate each other, and squawked with an ungodly racket from sun-up to sun-down. The humans followed them, boggling at their noise and trying to catch photos of those tails shimmering in the sunlight. Itís truly hard to imagine that these creatures evolved this way in nature.
The conversations in the kitchen were an interesting mix. The Harley riders, of course, were nothing like what I anticipated from their thunderous bikes and black leather garb Ė friendly, funny, outgoing, wisecracking. And of course they are normal working people with ordinary day jobs who don the gear and ride on the weekends just as I pull on my equally odd-looking PFD and sprayskirt to paddle my kayak. The high school kids from upstate New York were intrigued by Matilda and by my lifestyle. One, a junior in high school, told me he wanted to do international work, and asked how to go about it with an interest in all forms of the arts. Good question, if he ever figures it out I hope heíll tell everyone else with similar interests! The English woman teamed up with the Montessori teacher and the genetics researcher and they made a threesome, flying kites together and going to hear reggae music at a local club.
There was another type there as well Ė people who seemed a bit lost wandering the country. One young man whom Iíll call Danny sat all day on the porch or in the kitchen staring into space and smoking cigarettes. His voice was flat, his eyes dull. He was skinny, a few days stubble on his cheeks, blonde hair, and sun-reddened skin. He wore a knit cap that somehow made him seem even further away than his manners.
Impatient with his constant presence, I figured I might as well try to engage him in conversation to see if he might look a bit more alive. Turned out he had spent the previous six years in a Colorado ski town, earning some on the ski slopes, some more gambling on sporting events, and making up the difference with credit card debt. He said he had been sober for five years Ė 61 months, actually, and counting Ė but before that he had done a lot of hard drinking. He left Colorado to hitchhike to North Carolina because he felt his friends had ditched him, he didnít trust anyone out there any more, and he wanted to get about as far as he could go and still be on the mainland USA. He thought it would be easy to get a job on the Outer Banks, but hadnít realized that he couldnít save much, given the work he could get and the cost of living in a beach town. He's a military brat, said he was totally screwed up by his family moving every two years, hates his parents, has a degree in accounting but hasn't done that in six years and doesnít want to. He didnít know why he was there, or what he wanted to do, or where he should go. And all he could get himself to do was sit on the porch and smoke cigarettes. He knew he needed to get a grip on himself, but he had no idea what he wanted, just what he didn't want.
He talked to everyone at the hostel about hitchhiking from Colorado, his need to make more money, his depression and utter lack of motivation, his inability to find any reason to do anything. We were all worried about him, we realized by chance, but none of us knew how to help him. Weíre all transients, and none of us could take on a thirty-year-old depressed drifter. I felt helpless talking to him, unable to do anything beyond listen and offer simplistic steps he might take Ė rejoice in his successes, start with the easiest steps, know that fundamentally only he can get himself out of his own despair. We can try to inspire him but heís the one who has to decide to do it.
He decided to take off the morning I was leaving the hostel. He told me he didnít know where he was going next. But Jeff, the Montessori teacher, told me he was giving Danny a ride to northern Virginia to his brotherís house. Maybe thatís a good sign. Iíd like to believe it is, anyway
Continue to the next entry.
Return home.
Unless otherwise marked, all text and photos on this site ©Joy E. Hecht.