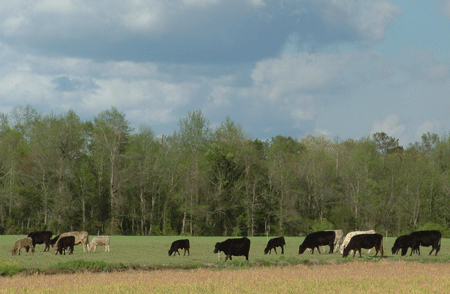 I left Ocracoke by ferry on a dark and stormy morning. It rained on and off during the two-hour ferry ride, while a group of us sat in the passenger lounge chatting about bicycling, campgrounds, and travel. Four older men were traveling on recumbents, and I pitied as I drove from the ferry in a huge thunderstorm with gale force winds. The rain was so hard that I stopped several times simply to wait until I could see better, to little avail. At half past two, still only forty miles from the ferry, the emergency broadcast system warned me that I was driving straight into a tornado expected to touch down two miles ahead of me in ten minutes. I pulled over at the first solid building I saw Ė a Hardees Ė where Iím sure my weather reports provided the staff with more excitement than they had had all day.
The tornado didnít materialize (if tornados can be considered material), and by four the thunderstorms had passed and the sky was sunny and blue with windswept clouds skudding across. Thatís when I realized how beautiful North Carolina is. I drove among rich green fields of slow-moving cows, edged by leafy bushes and small groves. Occasional old farmhouses were dwarfed by tall leafy trees, left there for shade when the fields were originally cleared. The towns were little more than crossroads, a few houses, a small store, a garage and gas station.
I stopped for the night at a park on the Neuse River Ė Cliffs of the Neuse State Park. Perhaps it was the evening light that did it, but woods in that park were the living version of every Eliot Porter photograph Iíve ever seen. Gentle light sifting through leafy branches, delicate white dogwoods flowering under the canopy, fine clusters of pine needles silhouetted against the sky.
It reminded me of Marion, this was her country. Dogwoods were her favorite, and though she was from Tennessee, spring in these woods is much like her beloved Smoky Mountains. It ran through my mind that I could visit her home town, itís not so far from here. I could visit her mother, whom I havenít seen since Marionís wedding. I couldnít do it, though. I didnít realize until I found myself in North Carolina in the spring that some places are still off limits since she died.