Tales of a 21st Century Gypsy
May12, 2004. Pittsburgh.
I also rely on the vanagon list for help Ė though with much less fanfare. I really wanted to spend a few days in Pittsburgh, but I was stumped for where to park my van in a big city. So I emailed the list to ask if anyone in Pittsburgh might be willing to lend me a bit of driveway for a few days, close enough to town that I could get in by bike or public transit. I got a call from Walt, who lives in the suburbs, loves Pittsburgh, and offered to drive me and my bike closer in so I could go exploring and pick me up at the end of the day.
Itís been delightful. Pittsburgh is a real city. Itís dense, houses right next to each other, sidewalks everywhere, busy street life, stunning views from staggeringly steep hills that I could hardly have pushed my bike up, much less cycled or driven Matilda. Walt took me on a night tour of scenic vistas, downtown Pittsburgh first from the north side of the Allegheny River, then from the south side of the Monongahela River. Pittsburgh was founded at ďthe point,Ē the spot where those two rivers meet to form the Ohio River, and it has spread up the triangle between them, and climbed up the slopes across the rivers, so there are sweeping views everywhere. Itís solid old urbanism, made for people to walk Ė and to climb the staircases that cut up hillsides too steep for ordinary streets. Pittsburghers have mastered the art of building on steep slopes, front doors opening onto one street and back doors on the third story opening onto the street up the hillside.
Down at the point, in a state park next to downtown, a big fountain sprayed water forty feet into the air, showering the passers-by when the wind blew. I cycled around the city, across the bridges, through universities and residential neighborhoods and industrial areas. It was a hot day, and I stopped at an ice cream parlor that Walt recommended and had a luscious chocolate milkshake for lunch. I cruised through downtown and spent an hour reading by the fountain, trailing my fingers in the cold water and hoping for the wind to send the spray my way.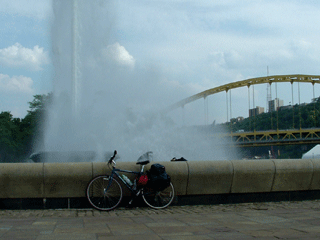 Walt has a warehouse. Heís a mechanic through and through, and needs it to accommodate both his vocation and his avocation. He used to work on fancy Italian motorcycles, but now heís a master restorer of 1950s Lancia sports cars. For his own use he also works on VW buses, and whatever else comes his way. We drove into the first floor of his warehouse, where a half dozen or so VWs are stored, making little dent in the cavernous space. Then we drove around the block to the next street, and into the third floor of the warehouse where the Lancias were parked. Leaving his car near the huge warehouse door, we wandered through the dark dusty place, examining the cars and the piles of stuff left by the printing plant from whom he bought the building. It was amazing. For all that Iíve just happily moved into a van, Iím fascinated by the idea of living in a space so vast that the cars parked on one side seem small, the ceilings are high enough to allow two full-height floors, and the rooms within where Waltís son lives arenít even noticeable. Iíd like to have a space like this, clear it all out, and pave it with a smooth supple floor that I could roller blade on, whooping and swirling and perfecting my technique until perhaps someday I will no longer be afraid of skates.