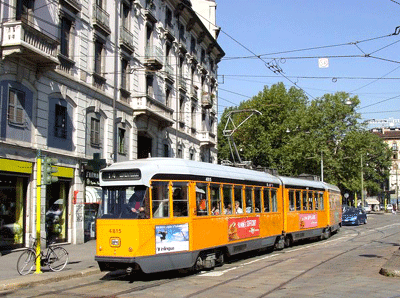 Photo ©David Pirmann.
Milan is a real, proper, business-like city, with sidewalks and streets and trolleys running on tracks and business people in suits and dresses at dozens of sidewalk cafés lunching on salads and pizzas, discussing plans and chattering into their cellphones. The buildings are heavy stone affairs, carved with elaborate animals and vines and fishes. Five or six stories high, with interior courtyards. A lot like Paris, actually. The streets are crowded with working people and tourists, groups of teenagers, a mother and her daughter shopping, a couple by a fountain, her head on his lap. Everyone is eating brilliantly colored dripping ice cream cones, rich dark chocolatey brown, bright pink strawberry with real berries, deep purplish magenta of currant flavor, pistachio green, and a hot orange that might be mango or passion fruit. Clearly my kind of place. I bought a cone and strolled on.
Oh - poof! - a priest just stepped up to an elaborate lectern here in the cathedral, and he's begun to speak. His microphone echoes horribly in the cavernous space. He's speaking in Italian, of course, but it's easy to understand. "Gloria al padre e al filio e al spirito sancto." Or is that Latin? He's stepped down now. Maybe it was just a just a quick prayer to remind us that this is a place of worship, not just a stop on the tour bus and a place to write in journals?
Milan is all full of bookstores, from little ones in stalls on the streets selling used books, to big ones filling the basement of a shopping mall whose ground floor was devoted solely to fast food - an "autostall," I think it was called. I don't speak Italian, of course, but I can read enough to be intrigued by the titles and pick out some of the descriptions on the back covers. I love browsing in bookstores when I travel, for what they say about the interests of the people who live here and the possibilities of what I might read if I stayed a little longer, learned the language, and got to know the place. I picked up a collection of essays about exceptional women all over the globe who were working from scratch to change their communities. From Mozambique to Spain, Ghana to England. A book about the US vs. Europe, why they are more efficient and more equal than we are. Or maybe less efficient and less equal? My Italian fails me.