Tales of a 21st Century Gypsy
July 22, 2004 Oh, the people you'll meet!
I've met all kinds of people in Cairo. All kinds of expats, I should say – I don't know much of anything about how the Cairenes live. I've always met the "long term overseas" folks – who aren't really long-term, that label should go to those whose lives are here for good, not just for a visit. The long-term overseas are Americans who come with their wives – yes, always wives – and children on a USAID or perhaps embassy assignment for three, maybe four years, occasionally it stretches to five. With few exceptions they don't know much about Egypt before they come. They are enthusiastic and excited, they buy all the books, they research the neighborhoods and schools and social clubs. Then they end up living in Ma'adi, a shady green suburb south of the city – home of the American school and the British school, scads of anglo expats, foreign newspapers and magazines, fast food, upscale shops, new air conditioned cinemas, and the only places to get good filtered coffee. When I'm feeling cynical, I could accuse them in my mind of having transplanted upscale American suburbia to Egypt – Montclair, New Jersey or Falls Church, Virginia. Liberal, educated, expensive, good schools, train to the city, restaurants you can walk to. That's rather unfair, though. Ma'adi is an oasis in the cluttered chaos that is Cairo. I use that word a lot, but oases are what this city needs. And the expats who live there are sincere, they love being in Egypt, they learn more Arabic than I have though they don't need it for their work, and they learn a lot about the country and its people. Why should I feel critical? I know less Arabic, far less about the country, and despite my almost-forgotten attempts to become a Middle East expert in graduate school, I can't imagine wanting to live here.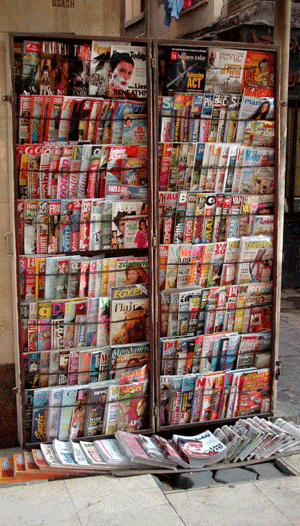 I went to the July 4th party at the American school in Ma'adi, the guest of one of my long-term overseas colleagues. It was a huge event, over a thousand people, and I'm glad I went. It wasn't nearly as hokey as the event I went to twenty years ago at the U.S. embassy in Sana'a, with the marine band marching in lockstep across the flowerbeds – though this did have a few marching marines playing patriotic music and a solo rendition of the Star Spangled Banner. This event was ten, twenty times bigger. Children in shorts and t-shirts chased pell-mell across the broad school lawns. It was hot and still, so they set up two tents lined with pipes that sprayed a constant fine mist that was almost as good as outdoor air conditioning. Food was hot dogs and hamburgers, plus fudgesicles and red, white, and blue ice pops that people handed out from cartons as they strolled through the crowds. They gave us each a raffle ticket when we entered. My colleague's fourteen-year-old daughter won the grand prize, two round-trip tickets between Europe and the United States. Not bad!