Tales of a 21st Century Gypsy
September 2, 2004. Oh, the people you'll meet – the independent women
This week I met two strong-minded middle-aged single women who want to head out on their lives on their own. Wednesday night I stayed at a campground on the beach in the town of Sheguiandah, on Manitoulin Island in Ontario. As I went in to seek a spot, I was passed by a woman in a car with a sea kayak on her roof. Another kayak! We said hello and decided to go out paddling on the bay. After that we exchanged names and bits of our stories, but only once we'd settled on our kayaking plans.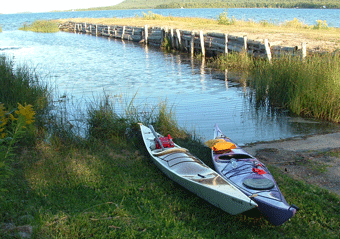 It was one of those paddles that makes you wonder how you got so lucky as to be able to be there. Sheguiandah (pronounced Shegwinda) is on a wide bay dotted with islands and surrounded by low green hills. The sky was blue, the water was blue, we saw one or two small power boats off in the distance but otherwise it was quiet, just a breeze ruffling the water and a loon calling. We paddled out for an hour to a tiny island with trees and seagulls, circled behind it, and came back in with the sunset ahead of us.
Ruth Ann lives in the Upper Peninsula of Michigan – the UP, as it is called. She manages an office for a living, but her life really seems to be about kayaking, hiking, and especially cross-country skiing. She doesn't quite think of herself as a "yooper," but she's been up in the UP for all of what she called her mature adult life. She's looking forward to going back to her immature life, retiring from work and spending more of her time doing other things. She said she started out a big partier, moving up to the UP to go to college, doing lots of drinking and partying and smoking dope. That was her first immature adulthood. Then she went to work, outgrew the party life, married, had a child, and began what she described as her mature life. Her return to immaturity won't be like the first phase – this one will be more about travel and sports and living on her own without concern for what anyone else thinks she should do.
She has a 20-year old son, but seemed to envy the independence of my life. She regretted growing up at a time when the expectation was that she would marry, and living with someone until they realized that they were incompatible was not acceptable. She regretted
that back then she hadn't felt she could simply do what she wanted. We had lots of little things in common – a love of good coffee, ice cream, our intermittent vegetarian tendencies, our politics, our preference for living solo rather than feeling we needed a partner to accompany us. We shared stories about well-intentioned friends who thought we should be afraid to travel and camp alone, and we ridiculed their suggestions that we should travel with guns or dogs or mace. We had dinner together at the campground restaurant – solid homemade food served in huge portions. We both gaped at the blackened, broken teeth of the young woman who waited on us, and wondered what her life must be like that her teeth were like that. Thursday morning, after sharing a breakfast of granola, yogurt, wild blueberries, sunflower and pumpkin seeds, and coffee in my van while rained outside, we wished each other luck, exchanged contact information, and headed on our separate ways.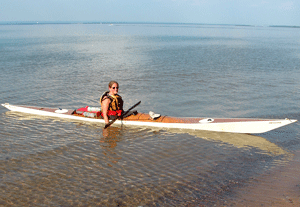 Oops, no photo of Ruth Ann. This is by Rob Lawrence.
From there I headed to Michigan to meet up with Barb. She had emailed me a few weeks ago – she had seen my website, and wrote to say that she was planning to move into her Vanagon in the spring and was delighted to find my tales. We exchanged a few emails and I mentioned that I'd be traveling in her neck of the woods – the UP – in a few weeks and I could stop by. Whereupon she invited me to join her extended family in a Labor Day weekend campout at "a real rural American experience," the Chippewa County Fair. Sounded good to me.