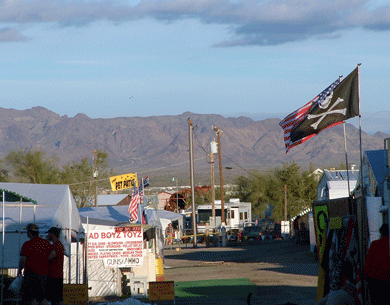 Tales of a 21st Century Gypsy
December 9, 2004. Quartzsite, AZ: The weird capital of the world?
When I was in college, we saw a movie about a family in Tucson. I don't remember what the movie was actually about, but what did stick was a young teen-aged girl who referred to the town as "the weird capital of the world." Tucson is actually a pretty nice place, but Quartzsite, Arizona might be a good candidate for the weird capital of the world.
In the summer, Quartzsite has a population of a couple of thousand, with a school, a fire department, a town government, the usual infrastructure of a small desert town miles from nowhere. In the winter, it swells to 250,000, with over a million visitors a year, as the snowbirds descend on this otherwise empty quarter of Arizona.
I'm not quite sure what the attraction is – mostly each other, I think. The town got its start as a winter destination by hosting an annual rock swap and fair, where people sold rocks and minerals of all sorts. The rock fair still happens every January, and it is still a big draw. But to make the commercial options more diverse, it has expanded to become the world's biggest yard sale, beginning in November and running until the snowbirds begin to feel the heat, and migrate north for the summer. People began arriving not only with rocks to sell, but with old clothes, kitchen utensils, vintage and just used glassware, bits of old jewelry, rusted farm implements, wagon wheels, sleds, lifesized statues of cows and zebras, rifles and shotguns, and anything else you can imagine picking up in the course of a summer combing garage sales in the northern states. Then there's the new merchandise, worthy of Canal Street in New York. Cheap tools, RV hardware, clamps, drill bits, dental picks, dish scrubbies, cheap leather bags from India, tie-dyed shirts, over-the-counter drugs, toiletries, angry decorations for the punk set, big brassy eagle pendants, baseball caps, cowboy hats, fake designer watches, sunglasses.
One woman sold hides and chamois and leather died every color of the rainbow, out of a warehouse on Main Street. A young man worked for who makes leather jackets and other clothes, who told me he was an artist and he gets paid in leather. His own apparel was certainly interesting. Suspended from a string around his waist were two small flaps of beaded leather. Over his shoulders he wore a leather vest. That was it, as was quite obvious from the side view. He was a cheerful friendly fellow, but I'll admit I was a bit taken aback. I wanted to take his picture, but I didn't have the chutzpah to do it.
Most of the real estate in Quartzsite is devoted to RV parks. The simplest lodging is on federal land at the edge of town, where campers pay $140 for the season. They have to be self-sufficient – there are no hookups for electricity, water, or sewer. They can use the public dumps for their own plumbing systems and refill their water tanks from the public supply, but they have to have their own generators or solar panels to keep their satellite dishes and televisions and lights running. The parks in town offer a lot more, for a rather higher price – individual electric, water, and sewer connections, wireless internet access, laundry rooms, swimming pools, all the amenities of suburbia. One was advertising all this at $100 a month, which still isn't a bad price. Out of town past the federal park there were more RV parks, for folks with a permanent home in the area, one that they don't take with them when they leave in the summer.
I stayed in a short-term camping area a few miles out of town, which was free but offered no amenities at all. It was bleak and calm, only a few RVs spaced out across a broad expanse of desert. On one horizon were the lights of Quartzsite, on another the outline of the mountains that surround the big basin where the town is located. I arrived at dusk and parked near a small dry wash. The land around me was filled with thorny scrub, occasional saguaro cactuses at a distance. As night fell the stars came out, brilliant in the black sky. With the light on in my van, though, the outside world is reduced to my black windows, I am in a small bright space surrounded by nothing at all.
In the morning I stopped by one of the long-term camping areas, to find out more about this strange place. Two elderly men were kibitzing behind the counter in the small office, both sporting "BLM volunteer" badges. One was in his fourth winter in Quartzite. The other was there for the first time and a newcomer to fulltiming. Lots of people come back every year, they told me, renewing friendships each winter. Most lived in the western states until their retirement, though there are a few from the east, and even some from Florida.