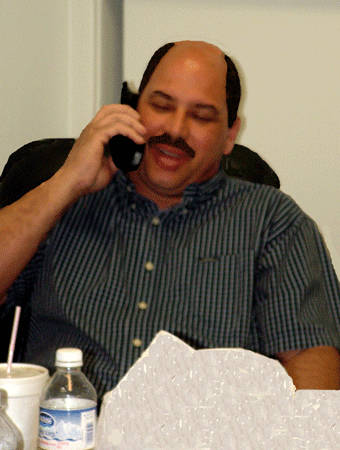 Well, that made all the difference. John Paul – he told me his name later – is on the tribal council, and works for the director of the museum. He's lived here all of his 45 years, expect for a period when he moved twenty miles away to have more room for his horses. But as soon as more land became available on the reservation he moved back. He talked about the weaving – the Chitimacha are famous for the baskets – and pointed out the old photos. Those people are his aunts, his grandpa, his great uncles, his cousins. This woman had taught the basketweaving skills to the girl next to her in the photo, who passed them on to him. The old man was his grandpa's uncle. The girl in that photo had been adopted by the couple in another photo other when her biological parents died. John's father was Chitimacha, but his mother wasn't – she had had to elope to marry his father, because her family, living far away north of Lafayette (less than 100 miles from Charpenton), didn't want her to marry a dark-skinned man. John's own wife is Chitimacha. They were already dating when they realized they were third cousins. Everyone is referred to as an aunt or uncle in the community, he said, so they didn't really know that they were actually related till someone else in the family told them. By then it was too late, so they just hoped being third cousins didn't make them too close to marry.
The tribe is like a small town, running its own schools, police and fire departments, courts, and other public services. It runs a casino, which has been its primary source of support for some decades. The casino revenues
have been good, even allowing them to give scholarships to any tribal youth who want to go to college. Recently, though, a lot more casinos have opened up in Louisiana; the racetracks have slot machines now, and so do all the trucks stops. The competition has cut severely into tribal revenue, and now they are thinking of enlarging their lounge to bring in more visitors. The casino has been great for them, he said – it's created jobs in the community instead of out on the oil rigs, and it's given them the funds for new facilities and those all-important scholarships.
Anyone who can prove that she or he is one sixteenth Chitimacha can enroll as a member of the tribe. They have members all over the country, far beyond the 400-or-so acres and 1000-plus people on the reservation next to Charpenton. All enrolled members are eligible for the scholarships. But anyone who receives a scholarship has to do one hour of community service on the reservation for each $100 they receive. That's brought some young people into the community who had never even been there before, and they are welcomed with open arms. John said that young people are coming back to the community after college as well, working in the reservation's administration, its health clinic, or its casino as accountants, managers, nurses, and in other professional positions. Indeed, the exhibits in the museum included a panel on Chitimacha professionals, with photos of a few of them.
John is part of a regional organization of tribes in the south east, and he attends their quarterly meetings throughout the region. He's active in their committees on both culture and governance. As the heir to much of the tribe's basket weaving knowledge and staff of its museum, he is strongly committed to recapturing and invigorating the tribe's culture. But as a member of its tribal council, he's also interested in how tribes are governed. He drives to the SEAT meetings, which gives him a chance to visit other tribes and Indian sites throughout the south east. Some of his family used to live in North Carolina and have now retired back to the reservation; through them he has met tribes in North Carolina and been toured their lands.