Tales of a 21st Century Gypsy
March 25, 2005 Excursions: The Pyramids.
My mother decided to take advantage of my stay in Cairo and come visit the place herself. She loves to travel, though she's not much into sight-seeing. But still, she figured she had to see the pyramids. The world's oldest tourist destination – she couldn't come all the way to Egypt and not get out there.
So Friday afternoon we headed out to Giza – my mother, me, my colleague Dixie, and our friendly driver Abdullah, bouncing down the roads in Abdullah's big taxi. The pyramids are in the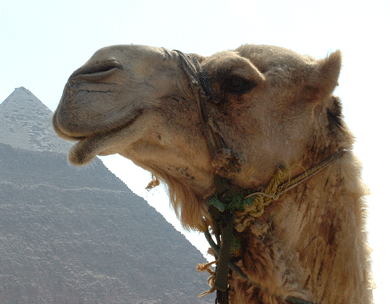 western suburbs of Cairo, past middle class neighborhoods of cement apartment buildings and lower class neighborhoods of ramshackle brick buildings between bright green fields. One hundred years ago you could approach the pyramids by boat, poled across the fields when the Nile was in flood. But since the Aswan Dam was built in the 1960s the land is dry, and now it's flooded with people and pavement instead of fields and water. It's a dry dusty ride, not very far, but we were dipping into our water bottles before we even got there.
The area around the pyramids is fenced off – of course. The biggest tourist site in the country, its entry fees probably bring in half the budget of the Ministry of Antiquities. But it wasn't really too crowded when we were there. Half a dozen or so big tour buses, perhaps a dozen minivans, and some groups of Egyptian school children, but no lines, and Abdullah had no trouble parking his taxi once we got onto the grounds and into the parking lot.
And there they are, large as life! Last time I visited them, twenty years ago, we went into the great pyramid, but now they restrict admissions to 300 people a day, half in the morning and half in the early afternoon. So we walked around instead, gazing up at the rough texture of the stone blocks against the very blue sky, watching birds circling along the facades and landing half way up on perches we could hardly see.
Maybe I'm jaded, but somehow they didn't fill me with awe. Not like seeing the Grand Canyon, which is almost as familiar and almost as much photographed as the pyramids. Perhaps I've read too much and seen too many Discovery Channel documentaries about how they might have been built, so I've already been duly impressed with the incredibly precise alignment of the stones, and the engineering genius it must have taken to construct them before even the invention of the wheel, much less the crane.