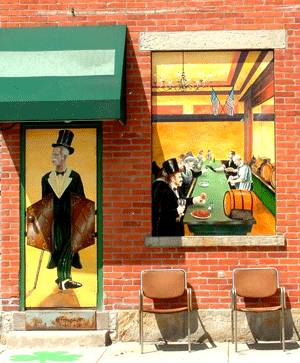 Ohio State University dominates the north side, its vast campus a city unto itself. To the west the campus dissolves into acres of fields and barns, the livestock pleasantly incongruous against the backdrop of downtown buildings. I stopped to talk to three cows standing by a fence. They sniffed me inquisitively, and even licked my hands with their rough tongues.
Downtown Columbus is being redeveloped quickly. Loft apartments seem to be the thing there, and dozens of buildings had signs offering newly renovated apartments for prices that might have been high by midwestern standards, but were very reasonable to me.
Part of the stimulus for downtown development is coming from a new arena, which has spawned the "arena district," an area of new offices and condominiums. South of downtown is the brewery district, an area of industrial buildings converted to lofts, restaurants, and brew pubs. North of downtown, an old market has morphed into a trendy place to pick up fresh-baked bread, organic groceries, fancy coffees, beeswax candles, bison and venison meat, and other essentials of everyday life. I sat down at picnic table outside the market, which I shared with two men who cruised in on bicycles.