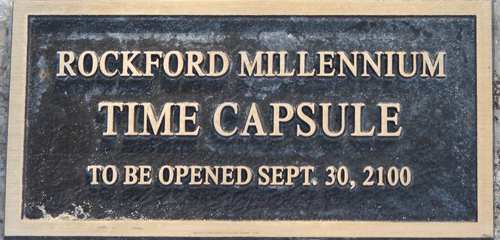 hope. It still smells pretty nasty from the rail trail behind it, though.
The town has grown slowly since Wolverine opened. The 1939 centennial history of Rockford gives the population as 1800; the 2000 census put it at 4626. I didnít count the businesses; lots more than seventeen, though! The mills are gone, as Michigan is no longer a land of vast forests, but Arnies Restaurant is in a building labeled ďthe old mill.Ē A huge Meijer store Ė an upper-midwest version of Target or Walmart Ė stands a few miles out of town, no
doubt drawing a lot of business away from Main Street. Brienís wife Sara said they knew that Meijerís would hurt town businesses, but everyone is still delighted to have it there, because it sells almost everything they need, and is much cheaper than the independent stores in town. The more modest D & W grocer, a western Michigan chain, is on the other side of town. The town center has become a minor tourist destination, with a handful of gift shops, a few restaurants, two cafes, and three ice cream places. Some of the buildings date from the 19th century, but the businesses they house are definitely 21st century.
The community is certainly different from other places Iíve been. Iíve hardly seen a non-white person since I got here, and virtually all of the children are blonde. There are a number of churches in Rockford, but I havenít seen a synagogue, mosque, or Hindu temple. Central Jersey, this is not! The townís website gives these statistics:
Races: white non-Hispanic (95.4%), Hispanic (1.5%), two or more races (1.3%), American Indian (0.8%), other race (0.6%), and black (0.6%)
Ancestries: German (23.9%), Dutch (18.2%), English (13.4%), Irish (13.2%), Polish (12.3%), and French (5.5%).
German and Dutch? Not like any place Iíve ever lived! Sara said there are actually a lot of Hispanics there, though I didnít see any in town. She thought they were mainly migrant farm workers, so they arenít visible in town, and surely donít complete census questionnaires.