through pools and soft waves to get to the exposed sand. Phil, who was an oceanogra- pher in a previous existence (since then he's been an Anglican minister and a counselor, and now he's looking to become a chaplain in the Canadian military), identified seaweeds and tiny crabs scuttling in the water and soft sea anemones covering the rocks.
As we ambled across the sand, fog drifted slowly in across the sea, blocking the crisp line of the horizon and blanketing the water. The sun was strong on the beach, and steam rose from the wet sand in the cool air. The fog came in closer, wisps of it tangling in the branches of the trees on the bluff surrounding the beach and lazily drifting above us. When you're within the fog, it hides everything from view including itself, but we were outside watching, and this fog was visible. We could see around it, watch it hanging over the beach, surrounding the island in the sand, and sliding up from the water to the bluffs.
After Phil left, I drove along the Strait to the end, at Cape Flattery, the northwest corner of the United States. The first part of the drive was on a peaceful road that wound among the hills, through lush forests and meadows filled with flowers of yellow, white, and purple. The sun was warm and the sky a brilliant blue. As I drove further, sun disappeared, trees were smudged with a mist that turned the world into a watercolor painting in shades of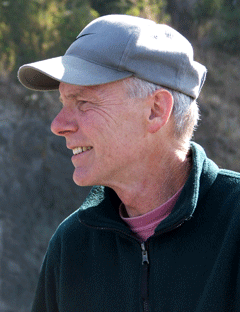 black, gray, and white. The road ran along the water, but it was almost invisible, the world disappearing beyond the trees. Occasionally the fog broke, the sun jumped back into place, and the world reappeared, warm in shades of blue and green dotted with flowers, only to disappear again moments later.