Burning Man is also a community, a whole city in fact. Black Rock City, to be specific, with its own Rangers, Department of Public Works, Fire Department, Department of Mutant Vehicles, Health Department, and a real U.S. Post Office. For one week a year, Black Rock City is actually one of the largest cities in the state of Nevada. The city streets are laid out in a neat pattern, nine wide avenues in concentric circles crossed by arterials that run from two o'clock to ten o'clock. The innermost avenue is called the Esplanade, and the other eight are named in alphabetical order; this year they are Amnesia, Bi-polar, Catharsis, Delirium, Ego, Fetish, Gestalt, and Hysteria. (I camped at 7:30 and Fetish, with a group of other VW folks.) Where Amnesia crosses six o'clock the pattern is interrupted by a much smaller circle, in the middle of which is a large tent called Center Camp. Center Camp has performance areas, a café, lots of art, and lots of places to enjoy the shade and the passing scenery. At the center of the whole circle is The Man, the one who will be burned; he's just a dot in the photo below. There are no streets between ten o'clock and two o'clock, but where twelve o'clock would cross the Esplanade is the Temple, another structure to be burned. Beyond the temple - out to the left beyond the edge of the photo below - is a wide open area referred to as the Deep Playa, scattered with sculpture.
Surrounding the whole complex is an orange fence, which serves both to catch blowing trash – or moop, as it is called in Black Rock City, "material out of place" – and to keep people from entering without a ticket. One of the duties of the BRC rangers is to patrol the trash fence and catch would-be interlopers. The Bureau of Land Management also patrols the fence; I don't know what they're after.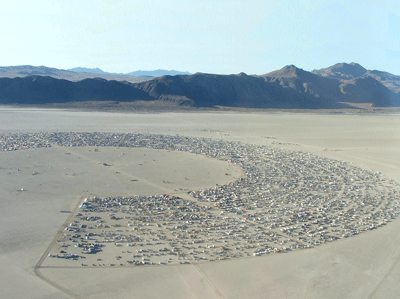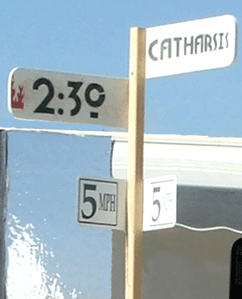 In addition to being a city, Burning Man is, for some participants, a week-long frenzied costume party, filled with drugs, alcohol, sex, and nudity. Or such is its reputation, one that the organizers work hard to dispel in their efforts to control how the press presents the event. The nudity was obvious – though there wasn't really very much of it – but I must admit that the drugs went right by me, as did much of the alcohol. And I assume the sex was largely in private, though I did occasionally see used condoms on the playa. Hey, at least they were using them!