Tales of a 21st Century Gypsy
September 1, 2005 Burning Man: Middle of the Night.
One night I woke up at half past three and went out to see what happens at that hour. The roads were pretty quiet – a few people on foot or on bikes, but most of the music and flashing lights were over for the night. In Center Camp a pair of musicians played cello and violin, a group of young men kicked around a hackey sack on center stage. The café was open, so I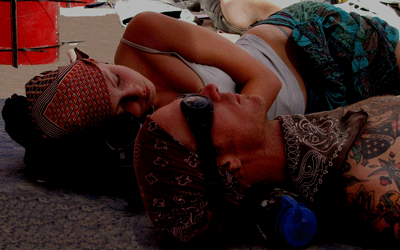 bought a latte and sat down to watch the scene. A few people were still partying, while others slept off the effects of their earlier escapades on couches and cushions. A very drunk man with glass in hand tried to converse with me, but he didn't make much sense. Another man wanted to know what I thought of Burning Man. I don't quite know how to respond to that question. Many people seem to come here to get away from their "default" world, as people here say, to spend a week as their true selves. I pretty much think I am my true self in the default world – or what I'd be inclined to call the real world, though that is probably all wrong for dedicated burners. And the way people choose to break out of their defaults when they come here mostly doesn't interest me – costumes, glitter, nudity, drugs, alcohol, promiscuity. But another part of what goes on here is quite lovely, the elaborate sculptures and vehicles and the glittering procession of people. I'm an enthusiastic observer, though not a participant. And sitting in Center Café watching the passing parade, especially in the middle of the night when it is quiet, was delightful.