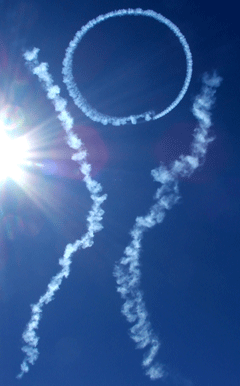 Tales of a 21st Century Gypsy
September 8, 2005 Burning Man: On the way out.
I left Burning Man on Tuesday morning, the day after the event ended. The playa was different as I drove out, quiet, scattered with a few remaining camps, a few bits of wood or cardboard left behind, an after-party feel in the air. I headed back to Gerlach, where I checked the price of gasoline, to see how bad it had gotten in the week since Katrina hit New Orleans. $3.30 a gallon, thirty cents above the week before, not nearly as bad as rumor had suggested. I retraced my route to Cedarville, California, where I had another breakfast at the place where I'd stopped on the way in. Gas there was up to $3.69 – but on the way in several locals had told me that the station owner was a price gouger, so that was no surprise.
In a coffee house across from the restaurant, I got to talking to two old ladies from the town. They had never been to Burning Man, but they were pretty curious. I ended up showing them my photographs, to give them an idea of what the camps were about, the art cars, the open playa, and above all the dust storms. They weren't deterred. Another