room in the hostel in return for quite modest pay, stunning views, and clear skies all year round. Another fellow – a fellow burner, in fact, though he had passed on Burning Man this year – was all full of creative ideas. We chatted a lot, he was an outgoing guy and fun to talk to about all kinds of things. But when he told me authoritatively that it hadn't been a plane that hit the Pentagon on September 11th, I kind of lost it, and asked him if he also didn't believe the Holocaust had happened. After that he wasn't quite as nice to me, and I kind of felt bad about my sarcasm, but I heard that plane, I saw the damage it did and the fires it created, and I just couldn't handle that kind of nonsense. Am I getting too intolerant of people who are different from me? After all, I did go on the road to meet people who are different. Hmm.
When I'm in small towns I like to read the local newspapers and find out what's going on in the area. I picked up one in Moab, the Canyon County Zephyr . It was quite interesting, actually – had a long article about the strategies of conservation groups in the region, which sparked a huge debate among the paper's readers. The best part of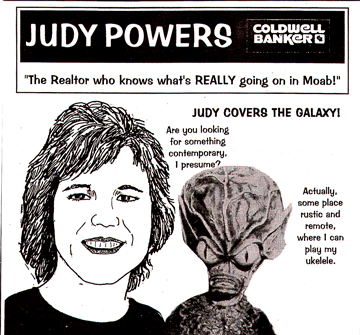 it, though, was the ads. In a way they were the usual small-town newspaper ads, for local restaurants, hardware stores, realtors, and the like. But with a difference. Someone on the newspaper staff is a clever cartoonist, and for a small extra fee he'd draw cartoons of the business owners to include in their ads.