busier, less pretty scenery and more gray walls and streets. Juliaís parents both live up in the Berkeley hills, her mother in a delightful old apartment, and her father in a charming Italianate house with red tile roofs, built around a terraced garden. After Julia and I took our leave, I had dinner at a proper Jewish deli that was celebrating Chanukah with big dishes of latkes (though I didnít have any). Berkeley felt a bit like being in New York, but with nicer weather and much prettier. I could probably handle it, though itís just as expensive, and therefore just as difficult to imagine, as New York.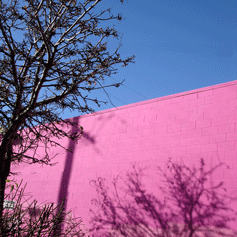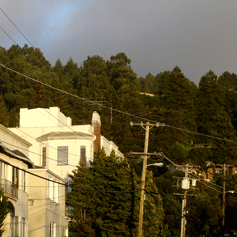 Since I returned from Malawi, Iíve been thinking a lot about settling down. Not because I have any grand ideas as to what I want out of life, or where I want to be, really. More because Iím just sick of having to worry where Iíll find my next shower, or where Iíll put myself (and my van) to sleep for the night. It just has gotten to seem like it would be very nice to have a home to go to, and when Iím home I donít have to worry about whether Iím camped legally, or where Iíll be able to wash my laundry or my dishes. I donít think itís by chance that my website fell three months behind, or that my last two entries have been about weather and road conditions. I havenít been talking to strangers lately. I havenít been curious about the places Iíve been. Iíve been quite content to spend my days working and going to the gym, getting into an ordinary routine. And in that routine, itís inconvenient to be living in a van. In fact, it gets to feeling more like being homeless, and less like being on the road.
Not that Iím going to settle down anytime soon. Iím returning to Malawi later this month, for something like two months, so clearly Iím not going to do anything about housing before then. After that Ė well, Iíll see. I still donít quite know where I want to live. Well, thatís not true. I know exactly where I want to live. I just canít afford Manhattan, especially not if I want to continue to own a van, and a kayak, not to mention my car and the other kayak thatís in my basement in Virginia. And especially not if I want to continue freelancing instead of having a ďrealĒ job. Living in Matilda is rather less costly than having housing, as it turns out, even with all the repairs and the skyrocketing price of gas. Iíve done a reasonable amount of consulting in the past two years, but not so much that I could really be unconcerned about employment if I were paying for housing. I definitely donít want to stay in my van simply because itís cheap Ė that really would be turning into a homeless person, and thatís not what Iím after. But it is nice not to be too concerned about how much work I have!