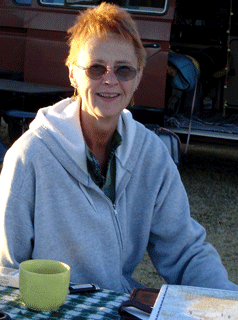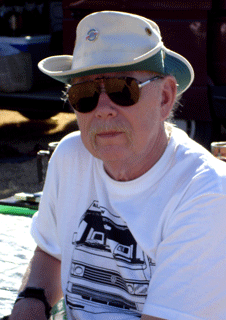 coffee in the morning or beer in the evening. We admire each other's vans, play with each other's dogs. Those who like to do repairs team up with those who need repairs, and things get fixed. Those who like to cook in their vans make pancakes or bacon or pots of coffee, and we all pull out food to contribute to shared meals. We talk about common concerns – internet access, making money, porta-potties, nice places to camp for free, cell phones, how to fill your water tank without getting drenched when the water sprays back at you. Larry holds court in front of his van all day and most of the night, talking to everyone who comes by. Barb and Bev and I get overloaded from time to time, and retreat to our vans to check our email or read a book, then resurface refreshed a few hours later. Phil is always interested in looking at engines, as are Frank and Mark, both professional mechanics.
Larry looks, but he'll be the first to say he's not a mechanic – though by now he has learned enough that sometimes he can help people fix things.
In a way we're like family. We don't discuss our innermost feelings, but we're all in touch, and we want to see each other when we can. None of us is looking for a partner, though most of us are single – we value our independence and freedom. But having some family who are like us, whom we can stay in touch with, and meet up with from time to time, is nice.
So Buses by the Bridge wasn't very exciting, but it was comfortable. When the event ended, we didn't want to split up, so half a dozen of us – five who already knew each other, plus one new-to-us person - moved to a campground down the road, and spent another night camping together. In the morning we reluctantly went our separate ways – Jasan back home to Seattle, me to Las Vegas to check out the strip, the others down the lake to meet up with another group who had headed south the night before. And since then the emails go back and forth – Bev is back in Oregon and might go to Burning Man this summer, Phil is back in Campbell River but making plans to head east for his daughter's wedding in August, Barb is picking up some money waitressing in Joshua Tree so she can go up Alaska for the summer, Larry's camps at night in the desert outside Tucson and works days at his consulting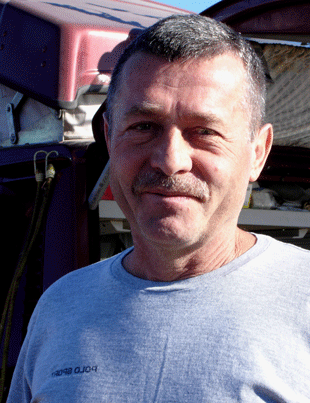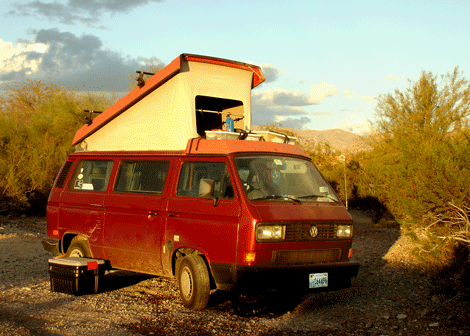 job in town. And as I write this I'm in Malawi working, and trying to catch up on my website in the evenings, so I'll be ready to start fresh when I finally get home to my van in April.







Continue to the next entry.
Return home.
All text and photos on this site &copy Joy E. Hecht.