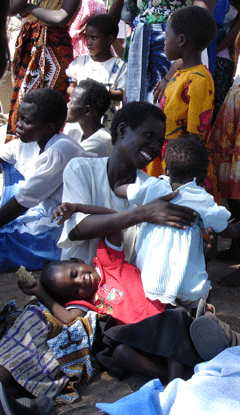 Tales of a
21st Century Gypsy
February 24, 2006. Event in Mangochi
Yesterday the staff of my project in Malawi went to a grand shindig, a cultural experience, and a chance to see the stunning Malawian countryside. Or, depending on how you see things, a long boring event in a language I couldn't understand, in the hot sun, with a bumpy three hour drive to get there and an even longer drive back.
While we were stuck out there in the sun not knowing what was going on, I might have thought the latter. But it didn't take long before I thought it was a grand shindig indeed.
It was the launch of the Presidential Initiative on Aquaculture Development, otherwise known as PIAD. Until a month or so earlier, it had just been one more COMPASS activity, to encourage aquaculture as a resource-based business, and to develop realistic standards for the financial returns that small-scale investors could expect if they were purposeful, intelligent, and perhaps a bit ambitious. Then the president of the country, Bingu wa Mutharika, decided it should be a Presidential Initiative.
I'm not sure that changes anything about the initiative, but it sure made the launch into a Big Shindig. Since it had morphed into something that might make the press, the whole COMPASS staff were invited to go up to Mangochi, some three hours from Blantyre, to attend the launch, listen to the president's speeches, watch the dancing, and listen to the singing. I was of two minds about going. When I thought about the heat and the language problems, I figured it would be a bore. But then I'd remember that I'd never had a chance to go to the launching of a Presidential Initiative, and I thought I should go.
So I went. And I'm glad I did.
The event was held in a big open field next to a school. There were a few lovely big trees at the edges of the field – baobabs, in fact, one of the most amazing trees anywhere – and a long shed for the VIPs. Other than that, everyone was out in the full sun. The Malawian sun in the middle of the day is Hot. Very Hot. It's not like the sun in Boston, or Boulder, or perhaps even Tucson. It's overwhelming. Fortunately I'd brought sunscreen, but there was no way I was leaving myself out there to roast. So I pulled a chair under a baobab off to the side and behind the shed with a bunch of other people – white people, people who weren't interested but were obliged to go, people who didn't really care about seeing the president or the musicians but were there to schmooze. Every half hour or so we'd shift our chairs as the patch of shade slid across the ground, until our spot got so crowded that there was no more room to shift.