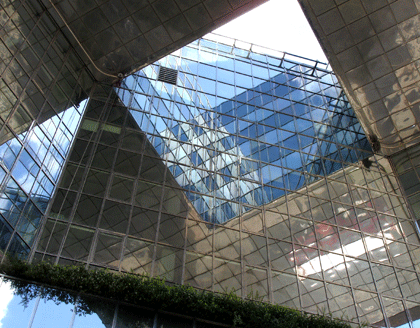 Tales of a
21st Century Gypsy
May 14, 2006.
Illinois
Of course I didnít buy that house in St. Louis. What would I possibly want with a five-bedroom house in the Midwest, even if it is in a nice neighborhood of a real city? Instead, I left town in the afternoon, crossing the Mississippi and heading to Urbana-Champaign to visit some old friends whom I hadnít seen in at least ten years. I met Laurian on an airplane in the early nineties, heading to Jakarta. It wasnít even I who met her, it was my colleague Henry who got to chatting with her as we waited to board the plane. It turned out she was going our way and, like all USAID consultants at the time, staying in the Borubador Hotel in Jakarta. So we saw a lot
of her on that trip. She and I stayed in touch, and a year or two later when she and her husband both went on leave from their faculty positions at the University of Illinois to work in Washington for awhile, we renewed the acquaintance.
Somehow Laurian and Gerry are people whom Iíve always felt I know. Some people drift out of your life and you forget that youíd ever even met them, but not those two. Perhaps because Gerry and I have work interested in common and we exchange emails from time to time? Or because they are both just nice, smart people whom I enjoy knowing? I donít know. I might have been one of the ones that drifted out of their lives, but I drifted back in on my way through Illinois.
They are Californians at heart, and world travelers Ė they both did their dissertation research in Indonesia. They landed up in Urbana-Champaign for work Ė it isnít easy to find two tenure-track faculty positions in economics in one university. Back when they were in Washington, they were happy to escape the Midwest, afraid of their daughters growing up too ďwhite bread.Ē But they didnít really have a choice Ė they had a reason to be in Urbana-Chaimpaign, and there they stayed. I wouldnít call their daughters white bread, but they do see themselves as Midwesterners, and seem likely to stay there. The older, who has just completed year first year studying art at Washington University, thinks cornfields are a fine and homey landscape. The younger, whoís finishing high school, is in the color guard, an activity that I donít think even exists on the east coast, but Laurian told me itís quite big in the Midwest.
It was nice to see Laurian and Gerry. The weather was unseasonably cold and we werenít inspired to much of anything beyond a trip to the local mall for a a native plant sale, to the grocery, into the few trendy shops in town. We spent the evenings watching movies on videos and catching up on a decade or so, talking about my travels, their lives in the Midwest, their daughters. Sunday morning Gerry put on a few sweaters and his cap and gown, and headed out to sit on a cold bench for hours and watch one of his PhD students graduate. And I packed Matilda back up and headed north to finally visit my friend Sharon in Chicago.