But it is a center. While most people around Trumansburg probably donít work there, they do go there routinely to run errands. My sisterís family does, at any rate, even though sheís in Ithaca every day for work and could easily go there instead. So they all depend on the grocery stores, the library, the pharmacy, the FLAPS (thatís vanagonese for the friendly local auto parts store). And of course the kids are there every day for school.
In fact, the schools are probably a lot of what makes Trumansburg a community instead of a shopping strip. And that is probably true of Tucumcari and Sanger, as well. People know each other because their kids meet in school. The adults, at least those with children, are of necessary part of a common enterprise tied to Trumansburg. School events are part of what the school comes together to do Ė plays, sports, concerts, graduations. While I was there we went to one, the awards ceremony for the graduating class, from which one of my nephews came away with an impressive array of awards. The parents at that event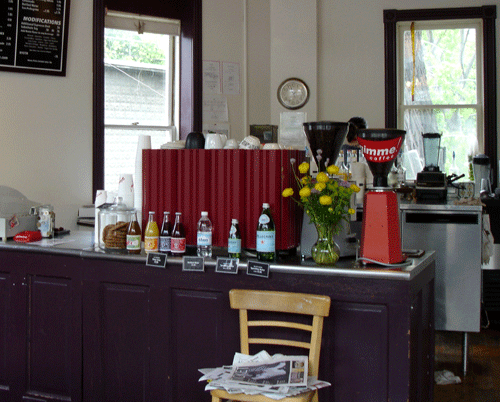 know many of the kids, not only their childrenís friends, and they are following the lives of the whole community, not only their own lives. So the school knits the community together, at least the part of it with chidren.
The obligation to pay local taxes, and the decisions of how to use those taxes, must also build a community, though I doubt that the taxpayers perceive that in a positive light. Yet the issues that come before the town council or the school board will be something local residents have to grapple with together, and the decisions will be ones they all have to live with. Not momentous ones, perhaps Ė while I was there one of the big issues concerned the unhealthy nature of the food sold at high school football games Ė but still ones that they fight about together.
As to whether the kids stay or leave Ė probably some of each, though Iíd guess more leave than stay. Many go away to college, and probably will not live in Trumansburg again. But some stay Ė one young woman whom I remember hearing about when she was a child is still in Trumansburg, and works at the coffee house. Another girl whose name I also remember, however, went to college in California and had just returned for the summer. No doubt some kids stay and go into construction, auto repair,