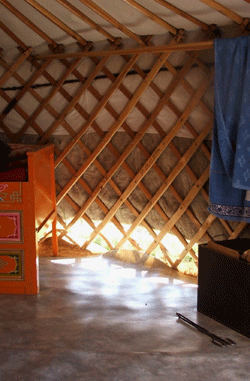 trap the rain, and mopped up puddles with a small blue towel as fast as they formed. Forty five minutes into the storm, the young man who served lunch appeared, sheltering inside a long hooded rain coat. In sign language I asked him to

please untie the door. After only a few soggy tries I got my candle lit, finally managed to dry the floor, and settled in to wait for the rain to stop.

When it finally did, it was cool outside, and the flies were gone. A few delicate yellow flowers were beaten down by the rain, but most of the meadow was soaking up the water. When I was sure it would be safe, I pulled the roof pad back again and lashed it back with its horsehair rope. Light flooded back into my ger.

Our camp is on a plateau, the road curving up from the river to reach us. In the evening,
I sat by the river, swollen by the storm, and read a book, pleased to be able to stay in one spot without a dozen flies settling on each arm. On the way back up, I saw a car on a distant road, and wandered to the edge of the plateau to follow its progress. Below me was such a strange scene – ordinary for Mongolia, but strange to me. Nearby, in the very green valley below me was a single ger, smoke coming out of its stove pipe. A man sat on the ground outside it, splitting logs into small pieces to feed the stove. Three or four boys circled him, watching, trying to split wood themselves, playing on a bicycle with a level of agility and balance that could only come from being on horseback from almost the time they could walk. One waved to me, and I waved back. But they were far below, and I couldn't see their faces – perhaps he was just swatting at the flies circling him?
Further down the valley a herd of horses grazed, and beyond the dirt track that constituted a road cattle dotted the slop up to the plateau. A single yak, a huge, shaggy, dark brown creature, meandered among the cows.
Even further down the valley stood three more gers, against a backdrop of the mixed greens of the mountain, the cloudy blue-gray sky, and the ribbons of streams cutting across the meadow.
The whole scene seemed to be a realization of an image I have carried in my mind's eye since I was a child – of Narnia. It's a strange thing, that. You read a book – or seven books, in the case of The Chronicles of Narnia – and they images that, if the book makes an impression on you, you take with you wherever you go. So I have carried images of Narnia with me since I was young – flowering meadows, green hills, rivers flowing jewel-like through narrow valleys, sailing ships bouncing on the waves,