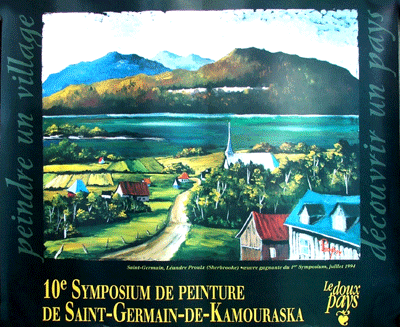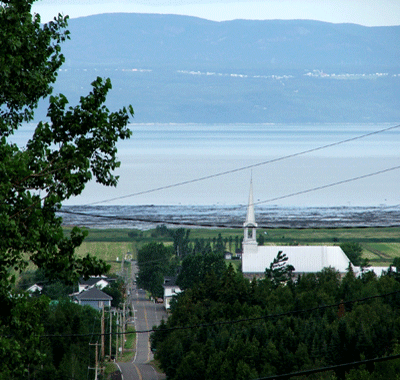 Tales of a 21st Century Gypsy
July 25, 2006. Tatamagouche, Nova Scotia
Wherever I go, I wonder what it would be like to stay, to get a little house (or sometimes a big one!) set myself up and settle in. In St. Louis I wanted the five-bedroom house with the splendid stained glass windows. In Kamouraska I set my sights on a more modest house, but one right on the water, by the pier. The signs said both for rent and for sale – maybe for rent by the weekend in tourist season, and for sale by the owner who doesn't want a rental property any more? Leaving Kamouraska I stopped in the even-smaller village of St. Germain, which was also part of the painting symposium. The poster I'd bought had a painting of St. Germain – the church, the road winding through town, brightly-colored houses, green fields. I wanted to photograph the same view. I think I found it, in a spot where the road climbed steeply to overlook the town, the river, and the Laurentian Mountains on the north shore. My photo isn't very much like the painting, it was a cloudy day, the colors limited to shades of green and gray. But maybe that makes the comparison more striking, and brings out the painter's imagination?
I wouldn't want to live in St. Germain, even if I had a house on top of the hill with the sweeping view of the countryside. But the idea of trying to capture these landscapes and waterscapes in colors – with fabric, I suppose, I'm no painter but I am, or have been, a quilter – is intriguing. Of course I'm not going to move to St. Germain or Kamouraska or any other small town in Canada, but as I drove east it occurred to me that if I want to convert what I've seen to fabric I can do it as well in Virginia as I could in a little house by the St. Lawrence. So as the sky cleared and the sun brought out all the colors around me, I cruised along, happily thinking of what I might do when I get back to my little house on South Lincoln Street.
In Nova Scotia, I met a lot of people who had settled from afar. I pulled over in the town of Tatamagouche, my eye caught by an espresso sign and then an art gallery. The gallery, my first stop, was run by a painter named Sharon, who was born in Nova Scotia but grew up in British Columbia. We talked about the fascinating quilts in her gallery, elaborate landscapes that have something in common with what I'd like to do. These have very dense machine quilting, which gives them a lovely knobbly texture, and brilliant shades of blue and green to capture the landscape. Interestingly, unlike most quilts these were priced at something close to what it costs to make them, two or three thousand dollars each. Sharon and I talked about that, as well. She prices her own work high as well – paintings at five to ten thousand dollars. She recently sold one in that range, too. Good for you, Sharon!