back – for holidays, to retire. What about their kids, I asked, growing up in Alberta or Toronto or British Columbia, do they think of themselves as Acadian? The answer wasn't clear. What they said wasn't really different from what the man in the laundromat, said but the emphasis was; they looked at the same picture, but one saw Acadie fading out, while the others saw it as a powerful force in the lives of its children.
The next day I had breakfast in Pleasant Bay, a tiny enclave north of the Cape Breton Highlands National Park, on a dead end road thirty miles from Cheticamp. The waitress had grown up there, in that village cut off by the park even from the rest of Cape Breton. She's of Scottish descent, and definitely Anglo. The Pleasant Bay children, she said, go to school in Maragaree, some forty or fifty miles to the south. The Chéticamp schools are French, and non-French children – as determined solely by last name – are not allowed to go to French schools. Her sister married an Acadian man, had children, and divorced him, but their children inherited the very common French name Aucoin. So they were permitted to go to the Chéticamp schools instead of having to do French immersion in Margaree if they wanted to grow up bilingual. The waitress sounded bitter about it – her children and their "French" cousins weren't even allowed to play together in the playground in Chéticamp, so strong was the desire to maintain French identity.
I'm baffled by laws like that, especially identifying ethnicity by name, since that means the children of an Acadian man and an Anglo woman are French, but children of an Anglo man and an Acadian woman will be English. But what it does make clear is that French schooling is not really about language – it's about inculcating ethnic identity in the next generation. It reminded me a bit of my friend who got religion and became kosher.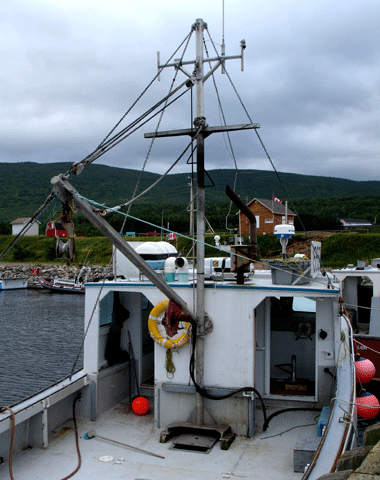 Watching his behavior, it seemed that keeping kosher wasn't about the content of the diet, but about ensuring that religious Jews will only be friends with those who share their beliefs, since it's awkward to be friends if you can't share meals.
The waitress said that the kids can ignore those laws and be friends anyway. They were friends before, when the Chéticamp schools were bilingual, after all – it's only recently that there's been this resurgence of ethnic pride and the desire to segregate