The reconstruction raised interesting questions of how authentic to be. I think they are interesting, anyway, but you've probably realized by now that I am something of a geek. If you think they are dull, feel free to scroll down and click on the link to the next entry in this website. I won't be offended. But if you are as geeky as I am, read on!
Anyway, where was I? On the one hand, they wanted to recreate the fortress and the village as they had been in all respects. But on the other hand, the 1744 structures were not built with a view to accommodating thousands of tourists, and they certainly would not meet 20th century Canadian building and safety codes. Moreover they needed to use space in many ways that didn't exist in 1744 – year-round climate-controlled offices, storage both for equipment and for fragile artifacts, machine shops, toilets, exhibition space, modern restaurants, wheelchair access, plumbing, and so on. So they compromised on historical accuracy. Mostly they hid the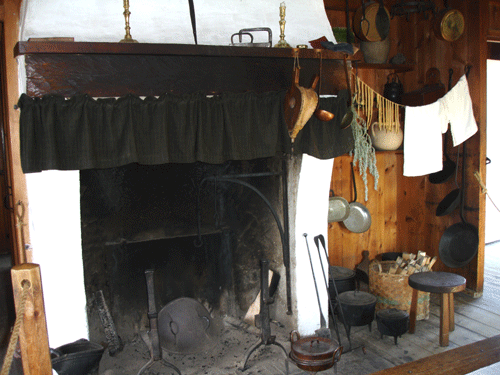 compromises quite effectively, but we all laughed at the sprinkler system nozzles peering from the ceilings of historic homes. Better hidden were buildings that looked in place from the outside but were not open to the public; they contain offices and workshops. The modern kitchens behind the period restaurants (with period menus, too - simple but quite tasty!) were not open to the public. The public bathrooms were in buildings used for exhibitions or other facilities, not in the period houses. And so on.