The drive didn't do much to improve my mood. I'd heard so much about the beauty of Newfoundland, and the danger of being surprised by a moose when visibility is bad. Around me I could see nothing but gray, with a wall of dark trees looming on either side. See a moose before it stepped in my path? Not a chance.
Things improved a bit when I got to St. John's an hour or two later, but only a bit. I found my way downtown, but it was still early on a Saturday morning, and most everything was closed – though I was cheered to pass a used bookstore on my way to selecting a parking space. Stepping out of Matilda, I realized I was going to have to give in to the weather, so I climbed into the back to find long pants, a sweater, and my bright yellow rain jacket. It was the first time I'd been in anything other than shorts and a tank top since I returned from Mongolia. Pocketing my map, I set out in search of coffee and breakfast at someplace that wasn't Tim Horton's.
The place I found - down the block from Tim Horton's – helped my state of mind. Called the Bagel Café, or something like that, they turned out to serve absurdly large omelettes and even larger handmade mugs of very good coffee, in a cozy dining room filled with artwork. I relaxed, read through the materials I'd picked up at the info center, located places to visit on my map, and drank lots of coffee. Matters got a notch better when I left the restaurant and saw another used bookstore just across the street. Two used bookstores right downtown – St. John's had to be okay.
So feeling way too full of eggs and sausages and coffee (what did I say about breaking that breakfast habit?!), I set out to see what I could see.
St. John's is a beautiful city, even in rain and fog. It's built around a long narrow harbor, accessed through a channel called, appropriately enough, the Narrows. Steep hills rise from the water, and the city climbs up those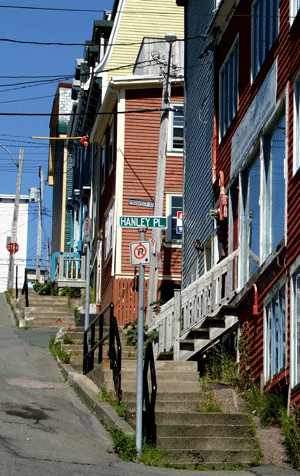 hills. So walking can be a challenge – in some spots there are stairs instead of sidewalks – but the views are stunning. Well, when it's not all socked in with fog. Most of what is there now was built in the early 20th century. A massive fire wiped out much of the city late in the 19th century, and the few buildings that survived are now guarded jealously.