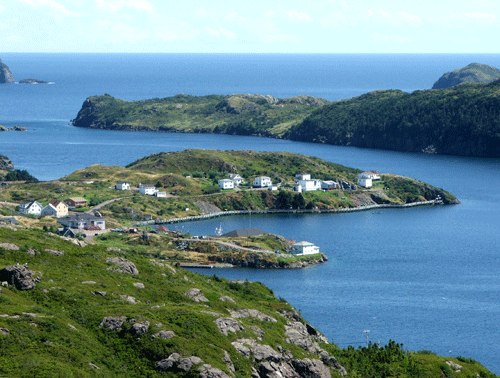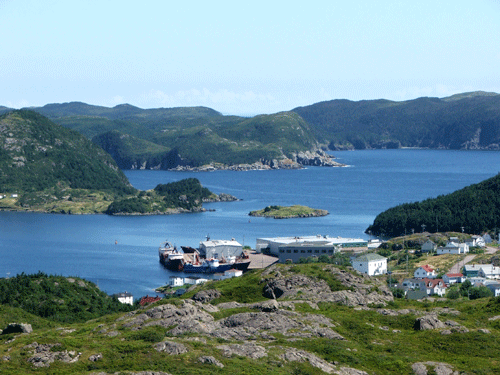 commentary on the local flora – insectivorous pitcher plants, alder bushes, a fern with a root that Louis claimed tasted like bananas (it didn't), an occasional raspberry, and lots of blueberries that we devoured as if we hadn't all just had a big breakfast on the wharf, at the morning event in the heritage festival. Jarrod raced ahead, while Nancy and I chatted and stopped from time to time to catch our breath.
At the top, the views were every bit as good as promised – a 360° panorama of all the hills and coves and inlets that make up the town of Burin. Jarrod and I took photos on my camera. Mike constructed an inukshuk - a stack of rocks in a distinctive Inuit form - on the hilltop. Nancy and Lewis pointed out houses where this uncle or that cousin used to live, where the hospital used to stand (Lewis was born there), and the clearing where a scary old lady had a house when Nancy and Lewis were children. We looked at their mom's house on a distant hill, and Jarrod's house just behind it, and we even spotted Matilda's windshield gleaming in the sunlight.
Nancy and I agreed that we could have stayed up there all day, but of course we didn't. No one wanted to return the way we'd gone up, so after conferring a bit, Nancy and Lewis agreed on the route we could take down. Or so they thought. From the top of one boggy hummock, it's hard to see what's around all the other hummocks, and we didn't really know where the path was. But we set off in what looked like a promising direction, springing across the turf and eating blueberries.
The trouble was, there was no path. So we'd scramble along for a few minutes, bouncing on the mossy bits, holding down branches with our feet on the brushy bits, and warning each other of sports where the bushes were deceptive and you'd put your foot down only to sink to your waist in