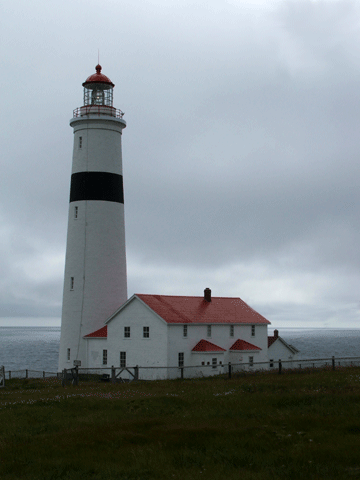 just heard on the radio that the Premier of Quebec is allocating one hundred million for a road to connect that bit of paved coastal road to much of the north shore of the St. Lawrence – though it still won't link them fully, as they haven't come up with the funds to bridge one of the rivers.
Canada must be the only modern country that still has communities as isolated as those of coastal Labrador. When they were built, everyone depended on the sea, and the lack of roads was not such a constraint. Now the sea has less to offer, we've used most of it up, and it no longer constitutes a way of life. But even when it was the way of life, it was a very hard one, and people who had alternatives were lucky. Jeff Wyatt, for decades the lighthouse keeper at Point Amour down the coast from Red Bay, was the wealthiest man in town, the first to bring in a car, and the first to construct himself an early version of the skidoos (snowmobiles, in the US) that now populate the area in winter. In Newfoundland, men eagerly left the sea for jobs in the US military bases opened in the mid twentieth century in Argentia and Gander; salaried work on land was much better than piecework on the water.
But still, the culture was formed by five hundred years of fishing, and now the fishery is gone. Looking at Newfoundland and Labrador, I thought of Jared Diamond's analysis of the Greenland Viking community that survived for five hundred years, but eventually died out because they couldn't change their ways to cope with a shift to a colder climate.
The Newfoundlanders lost the last remnants of their way of life in 1992 when the Canadian government closed the fishery. As in the case of the fourteenth century Vikings, the young people are moving to where the jobs are – Alberta mostly, it seems – and their parents
are left behind. As my mother's parents both moved to New York leaving their parents behind, and millions of Irish, Italians, Russians, Germans, and other Europeans left their communities behind. Europe certainly survived their loss. But Europeans – perhaps with the exception of the Irish – left because home was overcrowded, not because life was no longer possible at home. Those who left may have lacked opportunities, but only because they had been taken by wealthier or more privileged people. Whereas there simply aren't any opportunities in Newfoundland, as there weren't any for the Vikings in Greenland.