Meg and Suzanne, and made plans to meet Boston Bob while I was in the Boston area. (For those not in the Vanagon world, Bob Donalds rebuilds engines; he put the life back into the one that is now powering Matilda. Heís an institution in the Vanagon community, and also a really nice person.) And suddenly it felt like I was taking a trip, not living on the road.
When I got to Boston, I remembered that in this part of the world people donít talk to strangers. Six weeks in the Maritimes, and Iíd gotten used to greeting people on the street, chatting with sales people, getting into discussions with the other customers in shops. Visiting my friend Meg in Somerville, Massachusetts, I had to remember that here people donít make eye contact on the street or talk to whoever happens to be in front of them. Iím back in the big city, where your life is private and strangers stay strangers.
And yet, I still donít behave that way. Walking down the street in Washington DC one night, my path crossed with a woman about my age. She stopped and looked at me as if she knew me, and I thought she might have been a roommate of mine from many years ago. By the time we figured out that we werenít each otherís old friends, weíd stopped to chat. Which we did for half an hour, discovering that we have many things in common. We are both Jews from New York, we both work on foreign aid projects Ė she in the health sector, I in environment. We have traveled to some of the same countries, know the same lifestyle. It was a funny mix of being in travel mode Ė which means having long conversations with strangers on street corners Ė and being back in Washington Ė where everyone works on the same kind of issues I do, has had similar experiences, grown up in the same place, or gone to the same college or graduate school. I was on the verge of suggesting that we meet for lunch, but I didnít. And she was cold, so we said good night and went our separate ways.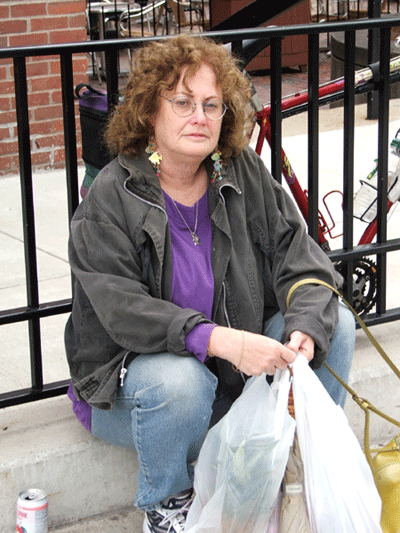 This is not the woman in Washington - it's my friend Meg.