Tales of a 21st Century Gypsy
March 26, 2004. Durham, NC
I seem to be stuck in Chapel Hill. Two days ago Sean at the vanagon hospital was guardedly optimistic that Matilda's problem might just be brakes. He was going to do some work, and take her out on the highway yesterday to put her through her paces and see if the smell returned. But when I called yesterday afternoon, he was still messing with brakes, and today he planned to take her out on the road. Sigh. Teach me to be accommodating instead of insisting that I need the repairs done instantly!
I've been poking around the area while I wait. Today I rode my bike to Durham, to see what I could see. Not much. I suppose once Chapel Hill was a small town next to a university, and Durham was a county seat with all the business that entails and another university nearby. Between them were farms and fields and pine forests. Not any more. From Chapel Hill to Durham is tedious
suburban sprawl, detached houses surrounded by lawns, garden apartment complexes surrounded by monotonously landscaped parking lots, strip shopping areas surrounded by acres and acres of cars, dreary six-story office buildings, no sidewalks or pedestrians in sight, and occasional stretches of country road lined with woods where traffic backs up because they have not yet been widened to four lanes. It wasn't much fun to bike because there were too many cars going too fast, but it did give me a sense of place.
Downtown Durham does have city streets and old buildings lined up along the sidewalks and even one tall building. But nothing else. No traffic. No restaurants. No coffee shops. No bookstores. No clothing shops or office suppliers or bookstores or drugstores. No people. Every storefront is boarded up, every building has a sign saying "for lease" or "for sale."
The only operating offices are the county courts and the lawyers, the only operating businesses are bail bond agents. At lunch hour I took photos in both directions from the middle of a downtown street. Nothing - not a car moving, scarcely a person in sight.
This seems to be what America has become, a landscape of wasted cities killed by the car and our appetite for single family homes, connected by miles of suburban development with no aesthetic or life to it. I don't know what I hoped to find in setting out to see the country, but I don't think I expected suburbia from one coast to the other. Foolish of me, I suppose. Instead of finding a stimulating environment in this country, what I am finding is how growing up in New York really affected me. This development sets my teeth on edge. This is why I got a PhD in city planning, because I hate this landscape and wanted to understand what made some cities – New York, Paris, Istanbul, Hong Kong – dynamic and vibrant places to be, whereas others – Edison New Jersey, Durham North Carolina – have "no there there."
To be fair, I suspect Chapel Hill and Durham are nicer places to live in than to visit. When you live here, you know about the interesting organizations and people hiding in those dismal offices and houses. You know what drives the community, what its issues are, who's working on what, where the neat stores are, when the farmer's market is open, who has a great collection of used books for sale. You know about the free concerts or the student theater or the interesting art galleries. So you experience the place more richly than the visitor who sees the street life but not its interior.
So what does it mean to be a traveler? I'm impatient with having an ordinary everyday life in one place, feeling trapped in the details of one way of life. Yet I recognize that unless I have a sense of those details in another place, I really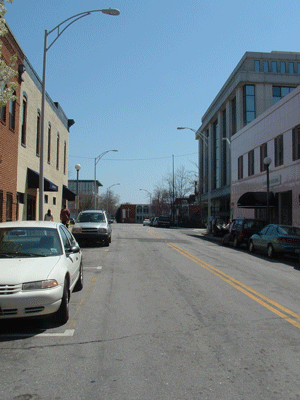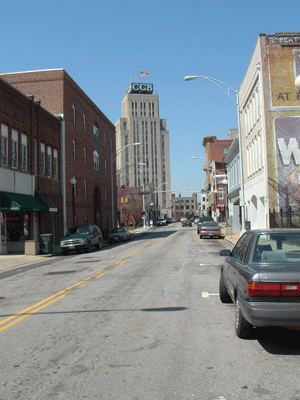 cannot understand it. Street life is good for travelers, we think that places are interesting if their street life is interesting. Does it actually matter to residents? To me, yes. I want to live in a place where I can walk outside and find something there. Something other than trees and lawns, that is. I've love to have a little apartment over the chaos of Ninth Avenue in New York. That is real, whether or not one knows the interior life of the community.
Going through old files, I found something I wrote ten years ago, that seems somehow pertinent: