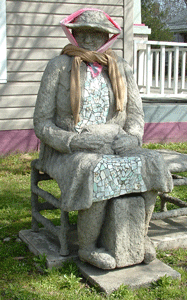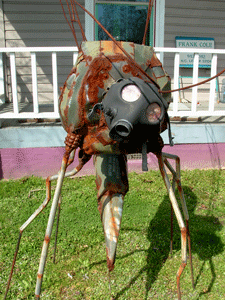 gliding and whirling smoothly in the breeze. Some seem to be inspired by Calder, others might be fountains or musical instruments, others are flocks of birds taking off in unison. They are just there, dozens of them, in a perfectly ordinary yard, with ordinary homes next door. When I wandered into the yard with my camera, their creator emerged, a gray-bearded man named Mike Roig, who said he had been welding "forever" but started making his living from his sculpture some fifteen years ago. He sells his smaller works at the Carrboro Farmers' Market on Saturdays, and a larger one graces the lawn in front of Carrboro City Hall. Many of the pieces in his yard, he said, will be moving out to exhibitions in the summer, and he'll have room to fill the yard again with new ones. His neighbors are great, he told me. It would be a delight to live next to these living creatures, and see them change with the light and wind and rain and sun.
Another house in Carrboro – the office of a builder - had two utterly incompatible sculptures on its lawn. On one side of the house a plump elderly woman in a dress and a bonnet is waiting primly on a bench, perhaps for a bus. Around the corner, a five-foot high wasp preys on the front entry. It's welded together out of surplus army materials – ammo cases, grenades, a gas mask for a nose. The windows of its circular glass eyes are lined with newspaper, stories about atrocities in Bosnia and Kosovo. It's nasty, evil, would shock the friendly grandma waiting for her bus if she could stroll around the corner to visit with her neighbor.

Every place I rode I saw murals. Pretty murals, political murals, murals making a social statement, murals celebrating the spirit. Along the blank wall of a Durham shopping center is a paean to the city's ethnic mix; a Mexican family on the porch of a country house, a black nun, a well-dressed couple, girls playing in city streets.