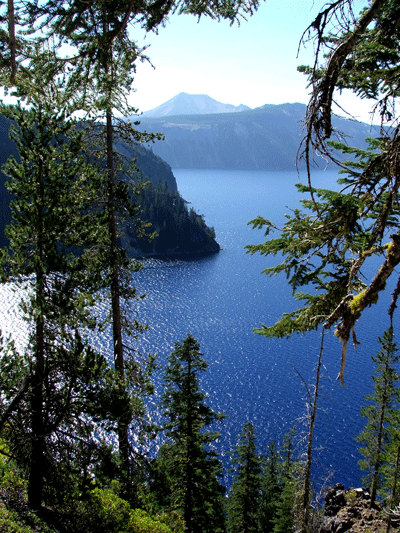 Tales of a 21st Century Gypsy
August 28, 2005 Oh the Places Youíll See: Crater Lake, Oregon.
Iíve always known that the US was a vast and diverse country. Who doesnít grow up seeing pictures of the Grand Canyon, the Rockies, Big Sur, and Yosemite? Years ago, thinking about how the US compared as a tourist destination to Europe, I concluded that while they had history and charming cities to offer, our real comparative advantage was our fantastic landscapes.
Yet until I went on the road, I donít really think I appreciated how very true that was. Lately people keep asking me what are the most impressive or amazing things Iíve seen, and I have to say itís the landscape. How trite is it to say that the Grand Canyon is awe-inspiring? Very. But true nevertheless. And the same is true of a dozen less dramatic places Iíve been in the past year; the Olympic Peninsula, the Badlands of South Dakota, the huge open spaces in Arizona and New Mexico, the rangeland of Wyoming surrounded by walls of mountain.
So when people kept telling me I had to go to Crater Lake, I figured I would, even though I had no good idea why.
Crater Lake, it turns out, is amazing. Yet another one of those places that just makes me say ďoh my gosh, who knew the US was like this?Ē Well, of course lots of people did. I just wasnít one of them.
Crater Lake is in the caldera of what used to be Mount Mazama, a massive volcano that blew off its upper five miles some seven thousand years ago, leaving a ring of rock walls with a lake in the middle. It is the deepest lake in the US and the clearest lake in the world. But its real claim to fame is that it is blue. Incredibly blue. So blue that itís hard to even capture in a photograph. Deep, brilliant, sparkling blue, shading to vibrant turquoise near the edges.
Its color is, of course, related to its history. After Mount Mazama exploded, its steep exterior walls remained, but its guts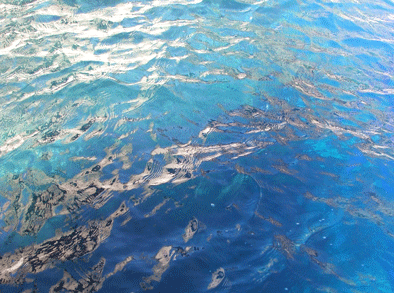 were spread across the landscape. That empty bowl filled with water, creating a lake almost two thousand feet deep, ringed by one-thousand-foot walls. All the water in the lake comes from rain and snow that falls into the caldera, and because of the peculiarities of the microclimate it is one of the highest snowfall regions of the country. No streams run into the lake, so there is no sediment or organic matter brought in from other ecosystems. Because the lake is so deep, it canít warm up; most of it maintains a constant 38 degrees year round.
All of which combine to make the lake very clear, and its clarity and depth create the outstanding color. Such a nice combination of geology, hydrology, meteorology and aesthetics!