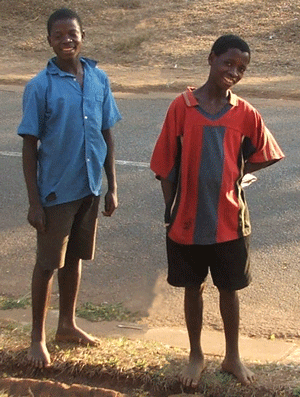 Peasants who had already run out of stored grain from last year had a mix of strategies for coping. Some paid the higher prices for maize. That meant that men who should have spent the fall planting the next crop instead had to spend their time working for wages, or their families would starve now. Which in turns can mean that this yearís crop might not get planted at all, or if it did, it couldnít be tended as carefully as needed, because the men were busy earning cash instead of farming.
Malawians do eat things besides nsima. Many grow fruits Ė bananas, mangos, and in some areas pineapples. So another response to maize failures might be to eat more of their own fruit instead of selling it. Or sell more of it instead of eating it, so they could use the money to buy maize.
Some of the other coping strategies actual relate to my work. Remember my work? That is what I was going to explain today. Malawians also depend on wild foods, which they gather for their own consumption. They could look for more of these, placing increasing pressure on the resource base around them. They gather wild resources to sell Ė fuelwood, timber, animals. When famine hits, they gather more for sale, so they can bring in extra cash with which to buy maize. The gathering of these resources often involves setting fires; to flush out animals to be hunted, for light when illegally sawing timber in the middle of the
night, to cook meals while working in the forest. All too frequently, those fires get out of control, burning large swaths of the forest on which everyone depends. When times are bad, people set fires on purpose, too Ė to clear trees so they can cultivate the land, to kill trees so they can be harvested legally, even in acts of arson spurred by anger against the Forest Department.
My work isnít directly an outcome of the crop failures and famine; these pressures exist even when the rains are good, thanks to constant increases a population that has no livelihood strategies that donít depend on the land and the forests. The famine has just exaggerated everything; led to more hunting, more fires, more cutting of trees, and more people without enough food to eat.
The COMPASS project is focused on helping people earn sustainable livelihoods from their resources, instead of depleting them to bring in short-run income. So they were interested in estimating what the resources would be worth if they were managed sustainably, and comparing that with their value if they are used up through unsustainable use. This kind of estimation, sometimes referred to as ďvaluationĒ in the environmental economics literature, is novel for Malawi, and perhaps novel for USAID projects. The hope, of