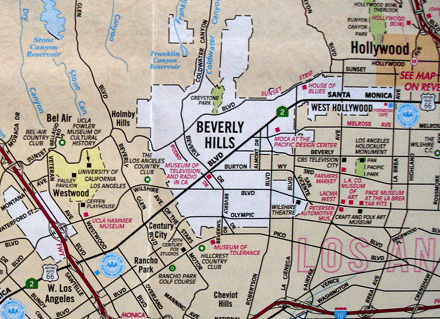 year in high school, we went to Rodeo Drive. I wonder if thereís a Goodwill there, where I can replenish my supply of tank tops? They should have nice ones there. But I suppose not.
A couple of years ago, I read an article in The New Yorker about the Iranian community in LA, apparently the largest one outside of Iran. Iím curious about that community Ė ethnic neighborhoods are always interesting, and they seem to be such an integral part of what the US is all about. Well, a quick google search dredged up that article, and the fact that those folks mostly live in Beverly Hills, which is apparently 20% Iranian. Who knew? I donít care much about the homes of the rich and famous, but Iíd love to visit a neighborhood where all the shops are Iranian.
Next to Beverly Hills I found UCLA, and Westwood,
and then Brentwood. Way back when, my aunt took me to Westwood Ė as I recall, it was one of the few walkable neighborhoods in LA. And Brentwood brings back memories of living in Paris in 1994, and arguing with the other Americans at the OECD Environment Directorate about OJ Simpsonís guilt or innocence. To the dismay of all of us, we split quite neatly on racial lines. So that was in LA too!
To the east of Beverly Hills I came across Pasadena, and Cal Tech, and JPL Ė the Jet Propulsion Lab, that is. Who knew that they were right there in LA too? I donít know what they do at JPL, but you canít spend your high school days hanging out at the New