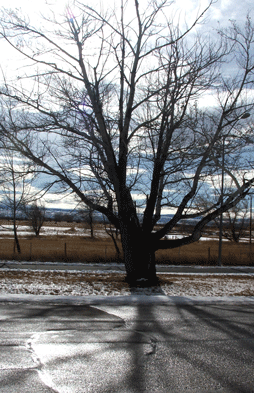 signs warned of slick patches, gusty winds, and blowing snow, and instructed us to turn off cruise control and keep to 55 mph. Of course Matilda couldnít even get up that high, so I put the flashers on as we crawled along. We only actually skidded once, and that so slightly that I donít think anyone watching would have noticed. Still, by the time I made it to Laramie, I was so scared I was shaking.
I wasnít about to call it a day with only one hundred miles on the road, though. So after an early dinner and some excellent coffee at my favorite (and probably the only) coffee roaster in Laramie, I struck out again, now in total darkness. There wasnít much blowing snow past Laramie, but I always drive slower at night, and this was no exception. Fortunately, there wasnít much traffic, either, and my flashers were probably visible in the dark. Less fortunately, while my windshield wipers were working again, the wiper fluid wasnít spraying. As long as there was no oncoming traffic it was okay, but lights shining on my windshield lit up a thick crust of splashed mud and slush. Even without the oncoming lights, I saw nothing beyond forty or fifty feet of dashed white line on my left.
It was a relief, a hundred or so miles later, to pull into the Flying J truck stop just past Rawlins, Wyoming. I considered staying in a motel, instead of camping at the Flying J, but decided not to. A motel would have a real bed and a shower. But Matilda is my home, and I wanted to get settled back in. Splurging on a ďrealĒ place to say sounds
like a nice indulgence, but when it comes right down to it, itís a nuisance. My stuff is all neatly in its place in the van, taking it out to sleep in a motel is just a hassle. So I drew the curtains, blocked the windshield, pulled out my bed, turned on my propane heater, and settled in with a book.