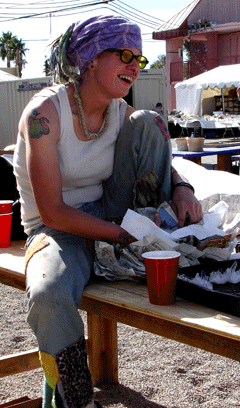 downtown Tucson. That was just a small bit of the show, but it was still overwhelming. The streets, lobbies, motel rooms, and parking lots were all crowded with items for sale and people buzzing in and out, talking shop, poring over the merchandise. Just in that one small area there were thousands of vendors and millions of pieces of stone.
In a parking lot outside a strip of motel rooms, a girl perched on a wooden table unwrapping small quartz crystals and laying them out in flats. I overheard her talking to another girl who walked by – the second girl wanted to know how to get a job at the show, and the first was encouraging her to just ask around, as she had. It turned out she had come from Florida for the show because she "loves the earth, it just has so much power," and picked up a job working for one of the wholesale vendors. I don't know where she was staying in Tucson; even the hostel had jacked up its prices for the gem show, and it was full anyway. She hoped that she'd earn enough to buy a car soon. Judging by appearances, I told her about Burning Man, and she said she hoped she'd be able to go there. It sounded awesome.
In another parking lot, a Vanagon circled around and came over to talk to Matilda, while I talked to the people driving it. They were from Taos, a place that's a bit like Tucson only much more so. Lynn Wozniak sells drums, covered with hide, stitched with thongs, and painted with kokopellis or buffalo women or native sun symbols. They are made by residents of Taos Pueblo, who find in their rhythm a response to the beating of the heart. Lynn started her business as a form of healing, and calls it Sweet Medicine Drums. She was a warm, enthusiastic woman, an aging hippie in flowing skirts and long dark hair. I was surprised when she backed away from my camera, claiming that one should never photograph a woman over fifty from close up. It seemed unlike her to care.