May 23, 2006.
Eavesdroppping over breakfast in a café in Michigan
I'm in a cafe in Portland Michigan, eating breakfast and eavesdropping. The men at the next table are discussing the unemployment of one man's wife, her depression at losing her place in society – the "social discourse," as one called it. The men aren't working – one just said something about "if you and I had to go back to work." Retired? Maybe.
The café is by a small river. Out the windows I'm watching the water sparkle in the sun as it flows around a tree at the edge of the bank. I took some photos of the stream, but photos don't capture movement and change. They don't show how the water swirls in small eddies above the tree, and swings swiftly around once it passes the tree. They don't show how the reflection of the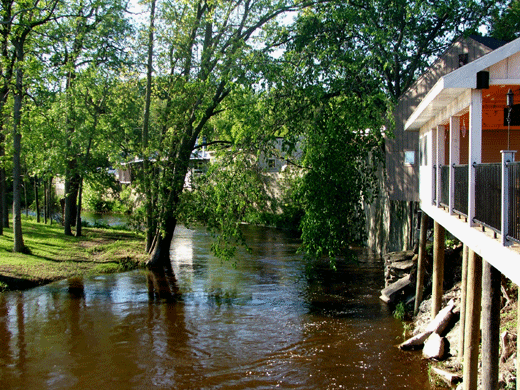 tree ripples as the water moves, swings wider when a breeze riffles the surface, darkens when a cloud passes, becomes sharp and clear when the sun is stronger. They don't capture the way surface is glossy at one moment, matte the next. And most of all, they fix the life of the stream in time, show a point instead of the constant flow.
Now the men are talking about the market, politics, whether politicians can take credit – or must take responsibility – for unemployment, economic growth, recession, or the value of the dollar. One mentioned their pensions – they must be retired. Former colleagues? Or even brothers? I think they used to teach – they are talking about the impact of the economy on teachers, as opposed to the employees at Steelcase. Maybe that company is near here? Now one referred to the budget deficit, whether the expense of the war in "Eyerak" is included. One is concerned with whether the Democrats will take the House, whether the Senate will be able to "make hay" out of the disasters of the Republicans. Now they're onto Bill and Hilary – whether women like Hilary, why Bill is so likeable. How he learned to remember everyone's names, why she couldn't have just given him some blow jobs and prevented it all.