When I saw them in the afternoon, we chatted over our paintings. The oldest boy, who was perhaps twelve, said it was fine having so many brothers, they were fun. And he explained to me that I was being attacked mercilessly by blackflies because I was eating bananas. He had known since he was young that you shouldnít eat bananas in the summer, because they attracted mean little itchy biting flies. Next time Iím in Newfoundland Iím swearing off all bananas, even if there isnít any other fruit worth mentioning in the stores! I goofed around with a boy who was perhaps nine, complaining when he got my water all dirty with his black paint, and catching his paintings when they blew around in the wind. The youngest boy had to be watched constantly, lest he drink the water in which we were cleaning our brushes, or spill it all over the table, the paints, and our artwork.
I ran into them again over dinner. I had gone to a real restaurant in Woody Point, wanting a proper Newfoundland fish dinner for a change. And wanting some calm and quiet. So I was a bit dismayed to see their huge blue van drive up, and the whole family pour out in front of my restaurant. There was only one table big enough for all of them, and it was right next to mine. Sure enough, after the father perused the menu, they decided to eat there, and they quickly filled the dining room with the chatter and the noise of many small children and two adults trying to control them.
By then it was clear that we were on the same path, so we introduced ourselves Ė though I warned them I wasnít going to remember the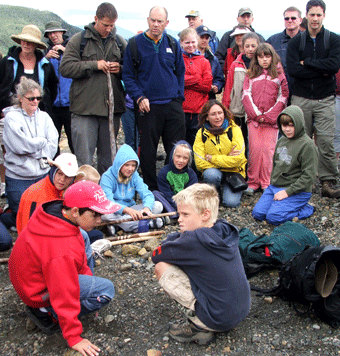 This is actually some other folks on the Tablelands walk. Sorry!
names of all those boys. Indeed, I donít even remember the parentsí names, but thatís okay. I wondered how they could afford a nice fish dinner for nine, but it turned out their approach was ďthree orders of this, two of that, weíll share it all.Ē The older boys took the younger ones to wash their hands, and their father led them all in saying grace before they dug in. Then their mother grilled them on what they had learned that day. When I heard her asking so many questions on the morning hike I thought perhaps she was a science teacher. Well, in a way she was, but it was her sons she was teaching! She quizzed them on all the details Ė how the Tablelands were formed, the names of the different rocks, the species of the plants and why so few grow there Ė all in both English and French. I couldnít decide whether I was appalled or impressed. But the boys didnít seem to mind. I think it was part of being in their family, that they had to learn, they had to help with the younger ones, and they all had to work together and get along or theyíd all go nuts. They reminded me of Louisa May Alcottís Little Men, one of the sequels to Little Women, in which Jo March and her professor husband run a school for boys, strict but kind.