Labrador Caravan
June 5, 2007.
The Start: Bus Fusion
Phil, Kim and I met a Bus Fusion, which is one of the better planned and attended events in the Westy calendar. (Thanks, Frank Condelli - pictured to the right.) For ten years it has been held every June on the shores of the Mississippi River in Almonte, Ontario. The other Mississippi River, that is. Last year when I was there, it was cold and raining, and we huddled in our vans with the heaters running, seeking shelter from the elements. The year before, when I wasnít there, it was hotter than blazes and everyone spent a lot of time in the water cooling off. This year we were lucky, and it was just right. Perfect blue skies, pleasant temperatures, and one simply splendid thunderstorm that began as a tornado warning which had us all scurrying to batten down hatches and put things away lest they be caught up in the wind.
Iíve gotten used to vanagon events by now, and the overall scene no longer seems worthy of note. The one was distinctive in a new way. One after another, I remembered people Iíd met elsewhere in the Westy world who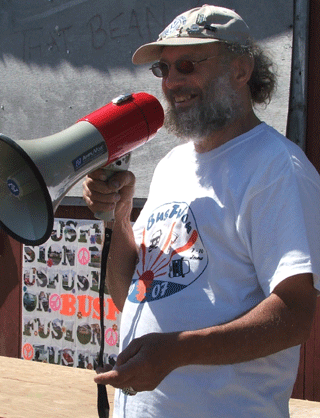 would be coming to Bus Fusion. Good people, people whom I was excited about seeing again. When I moved back into housing, I worried that I would lose my niche in the Westy world, but hat hasnít happpened. I still make new friends at VW events, and now there are increasing numbers of old friends whom Iím delighted to see again.
So this time I saw Tony again, a white-bearded man from Ontario, and his daughter Kathy from Ottawa, and her daughter Emma, a charming twelve-year-old with a passion for costume design. She had grown since last year, from a round-cheeked child into a comely almost-teen, who sniffed in disgust at whatever her mother said. Which fazed Kathy not a whit, she