charming streets, while I wanted to understand what the city is like to live in. On my own I would have wandered into gift shops selling pretty but useless items; afraid of boring them or enduring the male response to women who like to shop, I didn't so much as think of suggesting it. I might might have enjoyed a bookshop, but my friends don't read French. It was fun, though, when Kim meandered into a shop selling rocks and jewelry, and we all looked at sparkling stones harvested in the mines of Quebec. And when we walked down the promenade and climbed the stairs up to the fortress, we all enjoyed staring down the river with the wind howling in our faces, stronger and stronger as we got higher and higher.
The next day I wanted to do something I'd missed out on last summer, roller blade around the Plains of Abraham, a battlefield on top of the bluffs that is now a city park. I was astonished, when I passed there last year, to see that it had two separate trails around the huge lawn, each a kilometer or so in length – one for walkers and runners, the other only for roller bladers. This I had to try. But I'd run out of time last summer, and I'd never skated there. For a year I thought about returning to Quebec to skate around that battlefield. As I got more proficient on ice, practicing on the new rink near my house in Virginia, that trail returned to my mind over and over, and I was determined to get my skates out and try it.
Like all things anticipated for so long, it was a bit of a disappointment. The sun was hot, I'm not much of a roller blader, and I was still wheezing a bit from three days visiting my sister and her eight cats on my way to Bus Fusion. Everyone else glided smoothly past me, as I worked to keep going up the slight inclines. But I did cruise past a few them on the equally slight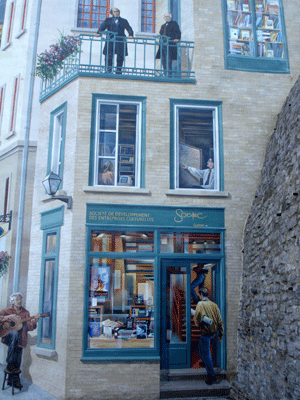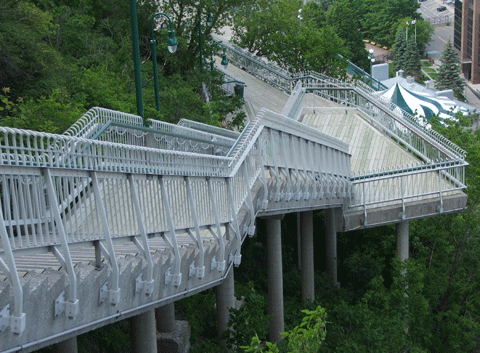 downhills, and by my second time around I was no longer unsure of my footing on skates. Old couples strolled by and relaxed on park benches, children played soccer and flew kites on the lawn while their mothers lounged in the brilliant sun watching. Energetic men and lycra-clad women pounded around the running path, and all kinds of people rolled around with me on the skate trail. It wasn't the transcendent experience I'd hoped for, but I was delighted to experience a bit of the Quebec where real people live.
Continue to next entry.
Return to the menu.
Unless otherwise indicated, all text and photos
on this page &copy Joy E. Hecht.