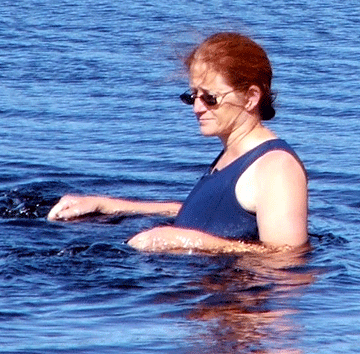 Godbout was delightful. We drove down to the end of the road, and parked in a sandy lot by the shore which we shared with couple of RVs belonging to the anglers trying their luck with the fish. It was quiet. Nothing happens in Godbout. We stayed there two days, doing nothing in particular. One morning I decided I had to brave the water, so I put on my wetsuit and waded into the river, hoping I wouldn't disturb the fish the anglers were trying to catch. It was cold. But it was nice, too. The current was strong, so I braced myself to walk upstream, then let it carry me back down the river. I guess I like cold water, though by the time I got out my feet were frozen into small lumps. Ah well, feet are overrated anyway.
From Godbout we continued, eventually, to Sept Îles. That was a practical stop. We camped at a parking lot by the beach, spent a full day handling logistics. I sat in a coffee house all day working on this website and answering emails. Phil ran errands, went to Canadian Tire, the supermarket, all the things that are only possible in a big town like Sept Îles. And I checked out the options for ferries to Newfoundland.
I wanted to continue up the north shore with Phil, but I also wanted to get to Newfoundland somehow. There is a boat that
runs from Natashquan, where the road ends on the north shore of the St. Lawrence, up to Blanc Sablon near the Labrador border. I'd heard it was expensive, and it didn't run often, but it was worth a try. So I gave them a call, to see if perhaps I could go by water to Blanc Sablon, and then by another ferry across the Straits of Belle Isle to Newfoundland.