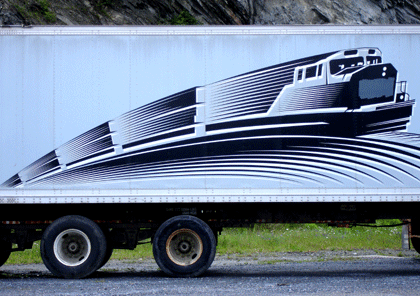 Chris said a lot of the socializing is in "après-ski" events, which I'm guessing involve food and alcohol consumed in slick ski gear. Doesn't quite sound like my scene.
Chris is happy to have found a life in his home town – and lucky. He works with young people in the corrections system. His advice to them, he says, is "get an education, and get out." The romantic notion of Newfoundland may focus on the richness and interdependence of the small towns, the strength of community among people who at one time had only each other to create their lives. But Chris's perspective is that it's a small, narrow world, and just doesn't offer much of a future to the young people growing up there. He told me of his niece, who left to go to university in Ontario, and is now finishing her PhD in history and on the academic job market. She comes back to visit, but couldn't imagine staying. The world is so much bigger than Newfoundland for her. She did her stint in that small world, and can't imagine closing her life down enough to return here.
I met another Chris in my travels, a transplanted Marylander who went to McGill and never left, now works on environmental education at Gros Morne National Park. She's a seasonal employee of Parks Canada, gets away in the winters when the tourists have all left. One of the locals at the park told her he felt sorry for her, because once the tourists are gone she has no one in town to talk to. And she told me that's true. I mentioned the woman I met last summer, the one whom I thought I'd be friends with if I were foolish enough to live in Woody Point (which I wouldn't be!). She was organizing lectures in an effort to create some kind of intellectual life among the CFAs – come from aways – who want to be there because it's beautiful, but don't have any peers in the place. Oh yes, Chris said, Susan, I know her. Everyone knows each other here.
Two days later I ran into Chris in the Canadian Tire parking lot in Corner Brook. She and her daughter had driven the 120 kilometers from Gros Morne to buy groceries at the Dominion Supermarket, a Canadian chain that is almost as comprehensive and fancy as Wegman's in the US. She was out of mustard, and could only get the yukky yellow kind in Woody Point, no good moutarde de Dijon there. No organic veggies, either, nor Fair Trade coffee, nor dried cranberries in bulk. In the past, she said, she used to go to Antigonish, Nova Scotia to get organic food. 325 kilometers on the road, six hours on the ferry, another 200 kilometers on the road. Just to get organic veggies.