Life in One Place
October 26, 2006.
The Opera
Tomorrow night I open in the opera.
Let me be the first to assure you that I am not an opera singer. I did sing in various choruses and choirs decades ago, and they did include the all-volunteer, no-auditions-required chorus of something that was then called Washington Civic Opera. But my talent is limited and it appears I have a distinct tendency to sing flat. If they'd required auditions, I wouldn't have been there.
Nevertheless, tomorrow night I will sing in the opera.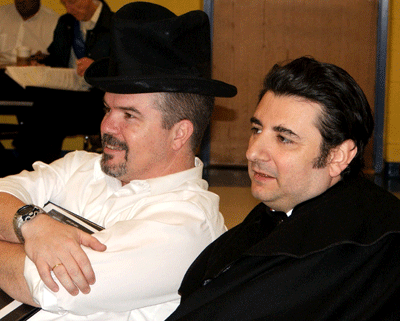 This happened quite unexpectedly. One of the operas I sang in thirty years ago was Magic Flute, which gave me an abiding love of Mozart opera, and Flute in particular. I have seen every performance of that opera that has ever come my way, from the Metropolitan Opera's production with sets and costumes designed by Marc Chagall, to an animated movie version that I saw in Italy in the 1980s, to a production sung in Mongolian in Ulaan Baatar last summer. Chagall's wild beasts tamed by Tamino's flute was absolutely charming, but the delight of the animated imagery that accompanied Papageno and Papagena's duet towards the end of the movie simply had to be seen.
So when I saw a young man with a Flute score in a local coffee house in early September, I naturally asked him about it, and mentioned my experiences of thirty years earlier. Well, it turned out that he was to sing Tamino, and they really needed chorus members. How could I say no?
Which is how I came to be in the chorus of not one but two operas, scheduled for performance a week apart. Not only was this group producing Flute, but they were also going to perform a Spanish operetta –a zarzuela, as it is called, a kind of light opera popular in 19th century Spain – called El barberillo de Lavapiés. To the extent that there really is an organization behind in all this singing, it's a group called Zarzuela Di Si, whose purpose in life is to familiarize Washington DC audiences with the zarzuela tradition. So all of a sudden, I found myself on track to be in two different
operas, in a group where only a few of us are not native speakers of Spanish, and virtually everything happens in that language – not only the music, but all the instructions, stage direction, and especially the constant chatter.
Now I've always wanted to speak Spanish, and I have studied the language some. And it is pretty easy to catch on to, with the French. But I don't exactly speak the language, and I miss a good two thirds of what's going on. To add to my confusion, everyone else already has already sung Barberillo, as the group performed it just six months back, so the music director didn't have to spend any time teaching the music. If I hadn't finally photocopied another chorus member's score, I wouldn't even
have had any music to look at in my frantic attempts to make sense of the rapid patter of most of the opera. Because this is light opera – imagine trying to learn Gilbert and Sullivan patter if the syllables didn't make much sense and you had trouble wrapping your tongue around the sounds! That's me in Barberillo.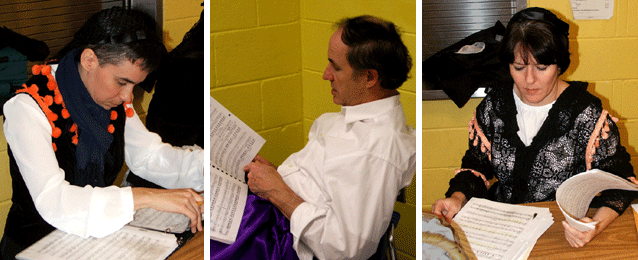 At least the Flute rehearsals were easy. Everyone else was stumbling over the fairly unmelodic chorus parts and the sometimes-difficult harmonies, not to mention the German, which none of us speak. But I know Flute so well that I found myself correcting everyone including our music director, as he played wrong notes on the piano.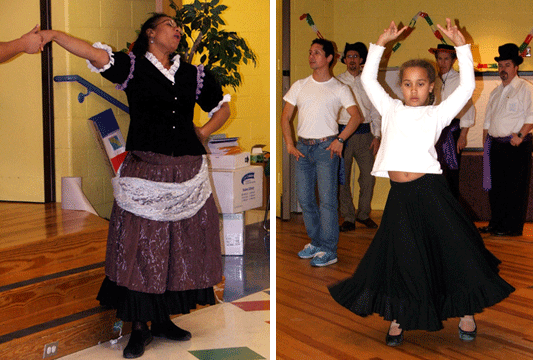 So I was a bit dismayed when, a week and a half ago, he announced that there was just too much to do, and too many of the principals had scheduling conflicts, so he was canceling Magic Flute altogether.
On the other hand, that gave me more time to work on the Barberillo music. And it's certainly fun stuff. Racing, bouncy, joyful music, the kind you find yourself humming without even noticing you are doing it. I couldn't really tell you the story of this opera, because between the Spanish and the fact that it's a nonsensical story anyway, I hardly know it myself. It has something to do with a barber – Lamparilla - who's in love with Paloma, a pretty girl (a maja, in Spanish), a terrible political situation, a hoity toity marquesita who's engaged to Don Luis, a stuffy nobleman. Somehow Lamparilla, Paloma, and the
marquesita are brought into a plot to overthrow the evil politicians, and all sorts of shenanigans ensue. The marquesita won't tell her fiancé why she is hanging out with the lower-class barber and his girl; Paloma tries to teach the marquesita how to behave like a maja; Lamparilla gets arrested in the fracas, to the great dismay of his neighbors (that's us, the chorus) because his replacement in the barber shop is inept.
The chorus is pretty inept too, but the principals are a delight to watch and listen to in rehearsals. Luciana Cecille, who plays the marquesita, makes the perfect snooty lady, but does it in an incredibly funny and clever way. Pablo Henrich positively bounces as Lamparilla – he would make a great Papageno, too. Anamer Castrello, our Paloma, is a strong and feisty woman
who is much more frivolous on stage than you would expect from her demeanor off of it. José Sacin, both the music director and Don Luis, sings wonderfully, though his role doesn't allow him to be quite as entertaining on stage. But the most fun is when everyone is hamming it up, singing each other's parts, and rehearsing dance routines with Mario Montegro, the show's choreographer.




We've got a posse of children, too, and I'm sure they are going to steal the show. José teaches music at the Oyster Bilingual School in Washington, and their chorus is part of the production. In rehearsals the kids are excited and enthusiastic, beaming happily as they sing, dance, run around, get distracted, chase each other, and generally act like kids. Their parents sit on the edges of the room waiting for them, watching, and especially complaining about how tired their children are when they stay at rehearsals till 8:00 in the evening and then have to get up for school in the morning.
We are matched with children in some scenes, in "families." Malcolm and I are matched with a tiny girl named Sophia, with scraggly blonde hair and huge round eyes and an even huger grin. Malcolm would be the age of her grand- parents, and at first she seemed shy of him, but that didn't last. She seems to like having her opera family, and pouts if we forget she is supposed to be our daughter.

The people involved with this show live in a different world from me. Arlington is heavily Hispanic, but our flow of recent immigrants and day laborers of dubious visa status are nothing like the folks in the

opera. They are the upper class, embassy folks, World Bank and InterAmerican Development Bank staff, and especially the wives of those people. I find myself wondering whether they even know about the lower class El Salvadorans and Mexicans and who fill the suburbs of Washington. Well, of course they do – just as I know that Washington is full of unskilled, poorly educated blacks living in Anacostia and doing badly-paid jobs as clerks or trash collectors or nursing home orderlies. I'm accustomed to being an expatriate, but when I'm overseas all the Americans are of the same social class – I'd happily talk to
anyone from home. Whereas the class differences of Latin American countries have been transplanted lock, stock, and barrel to the United States. The apparent lack of ties between the South Americans of the opera and those of my neighborhood does make sense, given the societies they've come from. It just confuses me.

These folks are utterly unlike me in most entertaining ways as well. Every arrival or departure is cause for excitement, exclamations, and enthusiastic hugging and kissing. Literally. No can arrive at the start of rehearsal (or in the midde – punctuality is not a highly ranked cultural value) without making the rounds of the whole room, happily greeting each person with kisses on each cheek. No matter that they just met me for the first time a week ago, and we saw each other yesterday. Still they must greet me as if this is a longed-for reunion with an old and dear friend. The other night I left rehearsal with Pablo, who had offered me a ride home, but before we could leave he had to take a lengthy and regretful leave of each person in the room. After all, we had a day off, and he wouldn't see them again for two days.

Not quite how I'd do things. A wave, "see you Thursday," and I'm off. Pablo apologized for keeping me waiting, but I laughed all the way out the door!

Return home. Continue to next entry.

Unless otherwise indicated, all text and photos on this page &copy Joy E. Hecht.