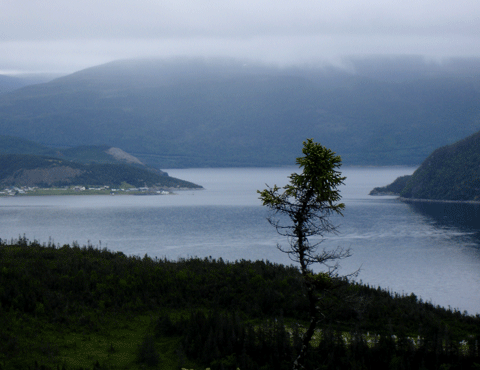 Matilda and I could go together. I had visions of vast open spaces, caribou, moose, waves pounding on deserted rocky shores, cool weather, gray skies, fog.
My interest in Labrador actually began long before I touched its southern shores last summer. Years ago on a flight from Paris to Washington, we had the luck of completely clear skies, and I happened to be by a window on the right side of the plane. So I watched the landscape pass by and was fascinated by a rugged coastline, dotted with coves and backed by mountains, with only the occasionally tiny cluster of houses suggesting some kind of settlement. No roads at all, just sea and shore and villages and mountains and forest. Until the scene opened into a vast expanse of water, after which we found ourselves over more settled areas, with towns and cities and highways.
I was hooked. Wherever that place was, I wanted to go there. I found a map and determined that it had to be Labrador, and the
vast open water the Gulf of St. Lawrence. I pored through guidebooks to Canada, but most barely mentioned Labrador. The only one that devoted a short chapter to it told me that there were no roads out of those villages. It took bushwacking, all-terrain vehicles, bringing your own goods, gasoline, and spare parts – the whole nine yards.
It didn't sound like me. So I put off thoughts of Labrador.
But that was before I entered the Westy world, and before I traveled to Newfoundland to learn that there was in fact a road from Happy Valley / Goose Bay to Baie Comeau. And best of all, that there were other people who might want to travel that route as well. Even a few who already had.