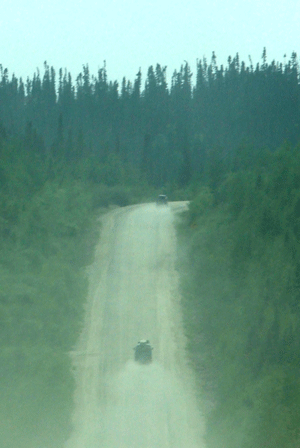 not complain about it. And he did find us a spot by a lake, though I'm not sure lovely is the word for it. In fact, it was so infested with blackflies that after one step out of the van I retreated indoors, shutting the windows and slapping madly at the bugs that had managed to invade my home in the few seconds it took me to get inside. I don't know what the others did that evening; I didn't emerge from my van until we left the next morning. I DON'T like blackflies.
Next morning we headed out with scarcely a word to each other, afraid to give the blackflies any more opportunities to suck our blood. With Kim continuing in the lead, we continued up the dirt road, dodging the spray of pebbles following the trucks barreling south and trying to keep out of each other's dust clouds. To either side of the road were forests. Miles and miles and miles of forests, endless forests. No side roads, no views of splendid lakes, no caribou or moose, just gravel road and dust clouds ahead of us and dense forest to the right and left.
Following the advice we'd gotten from everyone we talked to, we stopped to fill our tanks every time we had the chance. There aren't a lot of gas stations along Quebec Route 389, so if you want to get where you are going, you fill up at all of them. Don't even ask about the price, it doesn't matter, take whatever you can get. So at kilometer 320 we pulled into the vast open space and scattering of small dismal buildings that is Relais Gabriel, a hotel, restaurant, shop, and way station for people traveling to and from Labrador. After filling the tank, I bought some dreadful coffee and got to talking to some other folks milling around.
And so I heard the news. Or should I say, The News?
The ferries weren't running in Goose Bay.
The folks I talked to live further up the road in Lab City, five hundred kilometers from Goose Bay, and were on their way to vacations in Newfoundland. Via Baie Comeau, Gaspé, New Brunswick, Nova Scotia, and the ferry to Port Aux Basques, Newfoundland. Fifteen hundred kilometers. Not via the nearby Goose Bay and the ferry to Cartwright that we planned to take.
There were too many icebergs in the bay, and the earliest the ferry company thought they might get the boats moving was June 24. But July was a possibility as well. Their advice to the residents of Lab City – if you don't want to spend your whole vacation waiting in Goose Bay for a ferry, drive down to Nova Scotia and take the ferry there. First priority once the ferries do start running goes to commercial traffic, not vacationers, so with only two boats a week under the best of circumstances, it could be a long wait.